Install Agent Helper in Salesforce Console
Agent Helper is an addon. It enables support reps to solve cases quickly by presented four key pieces of information right on a case page:
Cases: A list of related cases.
Agents: The reps who worked on related cases.
Articles: A set of help articles that reps shared with customers.
User Journey: A summary of user activities.
The information is found based on a set of keywords. As an admin, you can select the Salesforce objects and fields where keyword matches occur. For instance, you can configure Agent Helper to look into the title of the current case page and find cases with similar titles. For increased efficiency, you can further select object properties or fields where searches are performed. Finally, a powerful feature named Filter Condition to select data allows you to keep information overload at bay; especially if your org has millions of records.
Installing Agent Helper
Activating Agent Helper
The dropdown will expand into a form after your have inserted the object. As can be seen in the next image, an object case has been selected for demonstration. Using the Input Fields dropdown, select object properties. You can select more than one property.

OPTIONAL. Enter your company's domain to identify agents. All comments from the entered domain will be agent comments.

OPTIONAL. Click Filter Condition to select data to open a window where you can further refine training data. For instance, in the next image you can see the settings if your goal is to train Agent Helper only on cases from SearchUnify or cases whose account ID series is less than 1932093420 (probably another indication that the case is from SearchUnify.)
Log into Salesforce Service Console to use agent helper.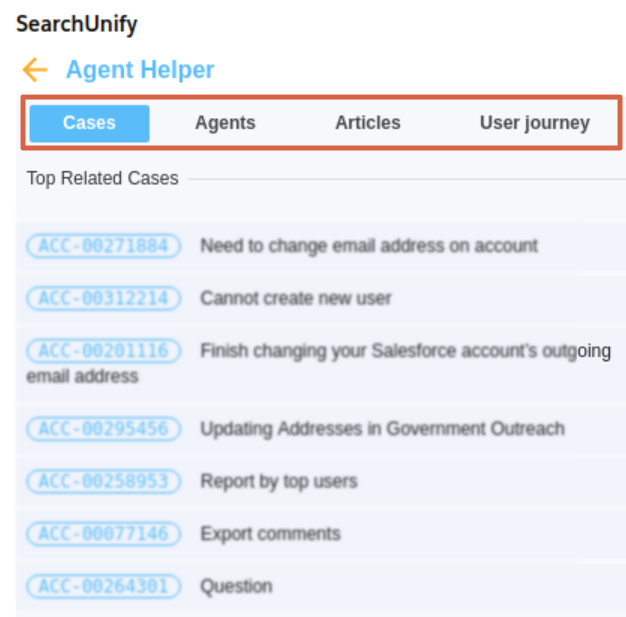 Last updated: Friday, September 25, 2020