View API Consumption Data
API Consumption features two reports: Current Quota Consumption and API Consumption for Previous Session. Both reports provide up-to-date statistics on data usage for applications created in Get Client ID and Client Secret with an API App.
Current Quota Consumption
This report features API usage data in four columns:
Per Minute shows the API calls made in the past minute.

Hourly shows the API calls made in the past hour.

Daily shows the API calls made since 00:00 (midnight).

Monthly shows the API calls made since the first day of the month.
If you don't see numbers but find a message "Exceeded API Quota", then it means you have exhausted all available API calls.

API Consumption for Previous Sessions
A report which shows Search (dark blue), Analytics (light blue), and Content Source (orange) API usage in the period selected in Date Range. The statistics are hourly for Today and Yesterday, daily for Last 7 Days, Last 30 Days, This Month, and Last Month, and monthly for Last 6 Months and Last Year. For Custom Period, the time range cannot be longer than 30 days.

Select API Type allows you to filter by API and with Sort By you can view consumption either chronologically (Least Recent and Most Recent) or by Consumption Rate (Low to High or High to Low). The latter has the advantage that it tells you the hour, day, or month when API consumption is at its highest. In the next image, you can see that May is when the most API calls are made and September is when API consumption is at its lowest.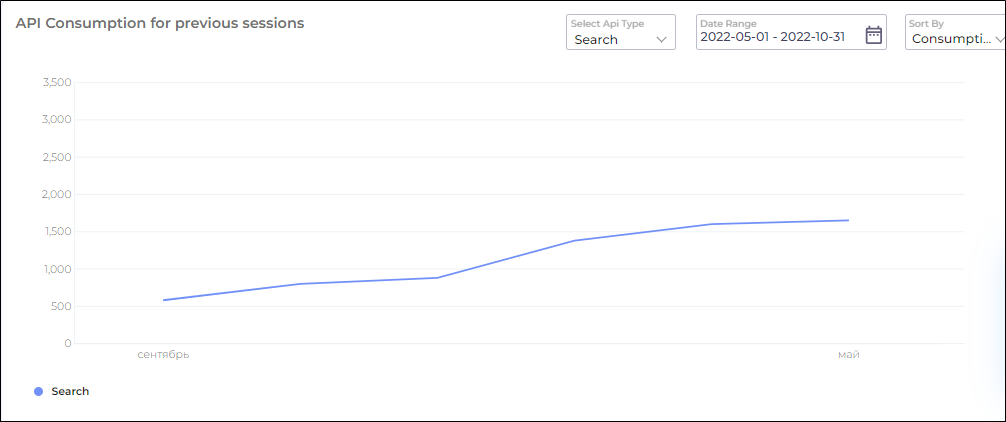 If, you see a horizontal line, then it means that no API calls have been made.