Set up Community Helper
Community Helper is an entire team of support reps wrapped into a nifty bot. Once installed, it keeps looking for new threads that haven't been answered in time. Then, using its NLP analyzers, search capabilities, and built-in templates, it answers the original poster. An admin can set up the time Community Helper will wait before jumping in; from as 10 minutes to 3 days.
This article walks you through the installation and setting up of Community Helper.
NOTE.

Community Helper works only on Salesforce and Lithium communities.

An admin can set up one bot for each community.
Install Community Helper
Find Community Helper and install it.
If the installation was successful, a new tab will appear in the main navigation.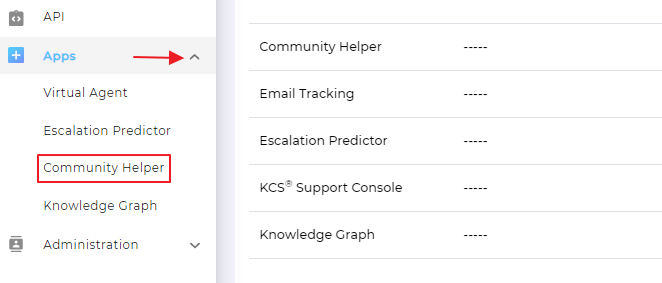 Create Your First Bot
If bot creation was successful, then you should be able to see it on the Community Helper screen.

Authorize Yourself
The first step to authorizing your identity is to open edit settings which can be done by clicking

.
Next, follow one of the following processes.
Authorize on a Salesforce Community
Authorize on a Lithium Community
After authorization, you will be taken to a Download Endpoint screen.
Create an Endpoint
The instructions to creating an endpoint have been packaged in a text file which you can get by clicking Download.

Select Content Sources
The bot assists community users by suggesting them knowledge articles, solved threads, and other documents stored in your content sources. On the Content Source screen, an admin can define the scope of a bot's search, that is if the bot should look into all your content sources or only a select ones.
Check all the content sources and content types you think your bot will need access to.
Compose Templates
Result
A community bot in action.