Colubridae '21 Release Notes
For the first time in SearchUnify's history, a Colubridae release has been announced in the middle of June instead of the last week of April. We used the six extra weeks to jam pack the latest SearchUnify version with the features you asked for and will love, while also managing to sneak in a few others to surprise you.
The biggest highlight of this release is the Virtual Agent StoryBoard. It has been revamped to such an extent that from now on there will be a pre-C21 and post-C21 Virtual Agent. The next big change brings Virtual Agent Intents to NLP Manager and Intent Boosting. The latter is Keyword Boosting on steroids. Using Intent Boosting you can assign a document a rank for an intent that can contain thousands of keywords. And it doesn't end there. Virtual Agent has transmogrified into a new avatar which sits right inside your instance and works as a personal assistant. In addition, a host of new content sources, advanced filters in Session Tracking Details, and dozens of small and big changes await you in C21.
Release Schedule
Colubridae '21 is going was announced on 17 June. The new version starts rolling out to customers for sandbox deployment towards the end of June, and production deployment begins in the beginning of August.
All updates-related queries can be directed to support@searchunify.com.
Core Platform
The updates in the core platform concern Home screen, Content Sources, Search Clients, Search Analytics, Search Tuning, NLP Manager, and Administration.
Home
The new SearchUnify Help virtual assistant becomes the star feature on Home. Among other changes and it is now possible to pin search clients in Recommendations and Case Deflection widgets.
Virtual Agent Dons a New Avatar: SearchUnify Help Assistant
Now you can opt for SearchUnify Help, an intuitive virtual assistant that can be used to seek assistance for your queries, access all help resources with a click, and leave feedback. The complete list of the assistant capabilities are in the linked document. Scroll down to SearchUnify Help Assistant.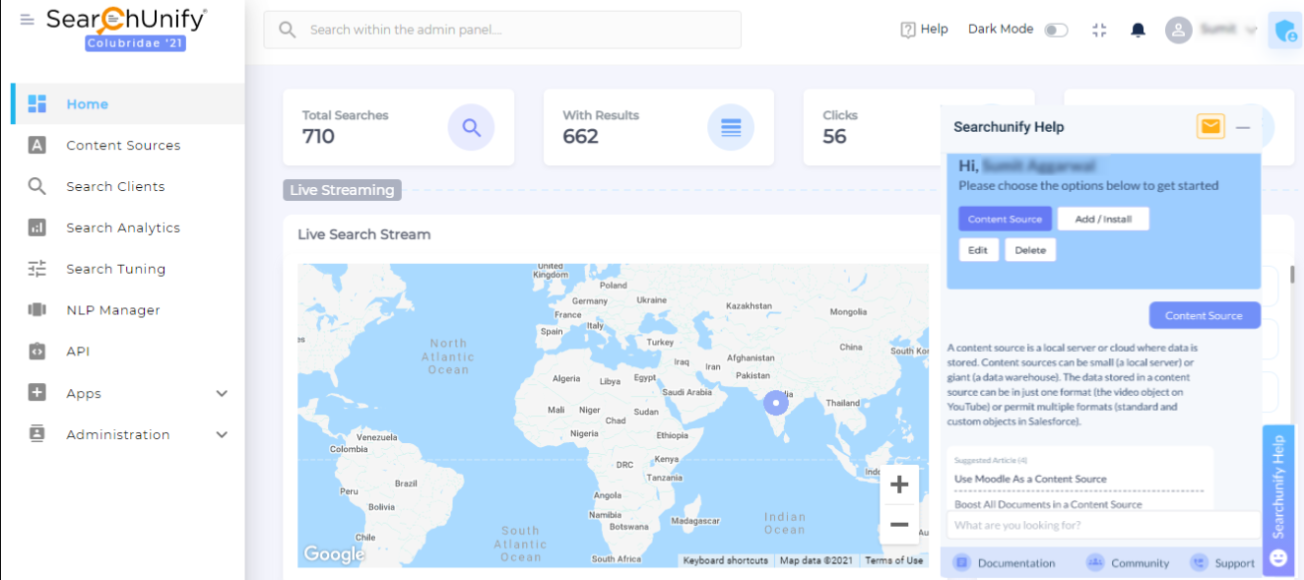 Recommendations That Stand Out
In Home, Recommendations hosts two reports and gets its own section. Scroll down to the section to obtain Actionable Insights on a search engine and suggestions on the Next Best Action. You will no longer need to select a required search client every time you look at Case Deflection or Actionable Insights, for a new feature in these reports allows you to pin a search client. That means each time you log in, you obtain the data for the pinned search client. A great feature if your job requires you to stay on top of only one search client.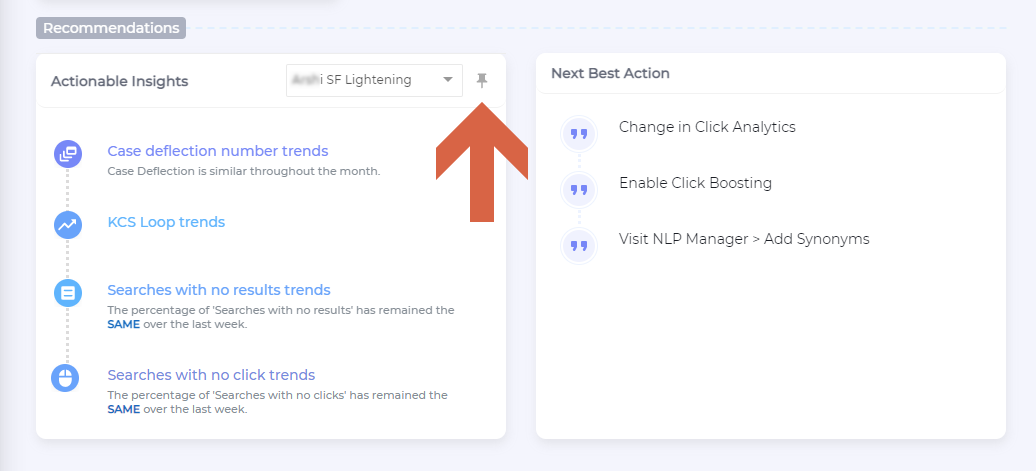 Find Super Admin from the Menu Bar
The person with the right to make any change in your SearchUnify instance shouldn't be a mystery, so we made it easier to find your Super Admin. Simply click the blue shield in the Menu Bar.

Another change in the Menu Bar is the removal of My Account. The tab has been renamed to "Account Information" and has been moved to Administration. Check out the Administration section for details.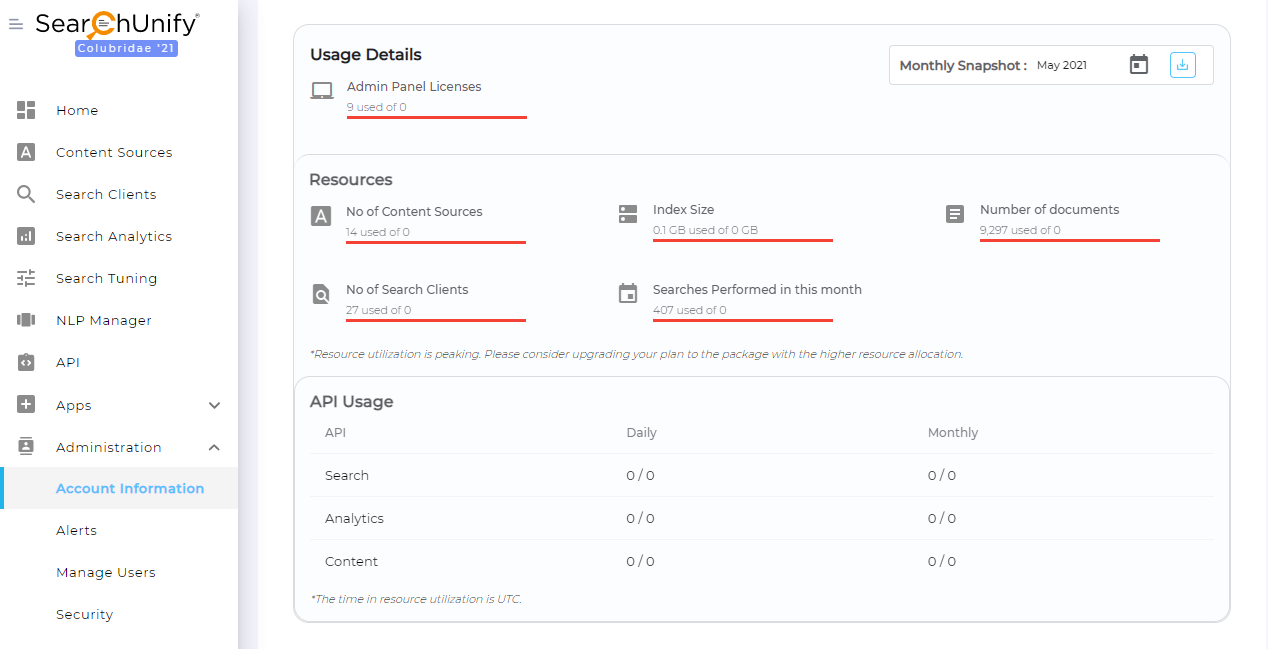 Content Sources
C21 contains out-of-the-box support for a new content source, extended support for Khoros and Salesforce (Appinium LearnTrac and ViewTrac objects), and a brand new button that gives you more control over content source edits.
Index and Search Product Ideas in Aha!
We have great news for those teams who store product ideas in Aha!. The platform can now be connected with SearchUnify with a few clicks. You can index and search ideas for the whole product. The configuration instructions are in the documentation.
Discourse Topics that Stick
All the discussions in Discourse can now be searched from any search client. A new crawl supports Discourse out-of-the-box.

Use Thought Industries Courses as Reference
Completing a course from start to finish is great when you are new to a team and have ample time to go through the materials. However, those who are just looking to consult a topic to solve a problem at hand can use SearchUnify to locate the topic. A new crawler can index Thought Industries data out-of-the-box.
Find With a Click: Who Last Changed Your Content Source
Who Changed Last is for teams who collectively look after several content sources. It is possible for a teammate to change the crawl frequency of your content source without notifying you. When such a thing happens, you don't have to lose time to hunt down the editor. Simply scroll down to your content source and hover the cursor over ICON in the Name. The creator of the content source and the last editor will be instantly revealed.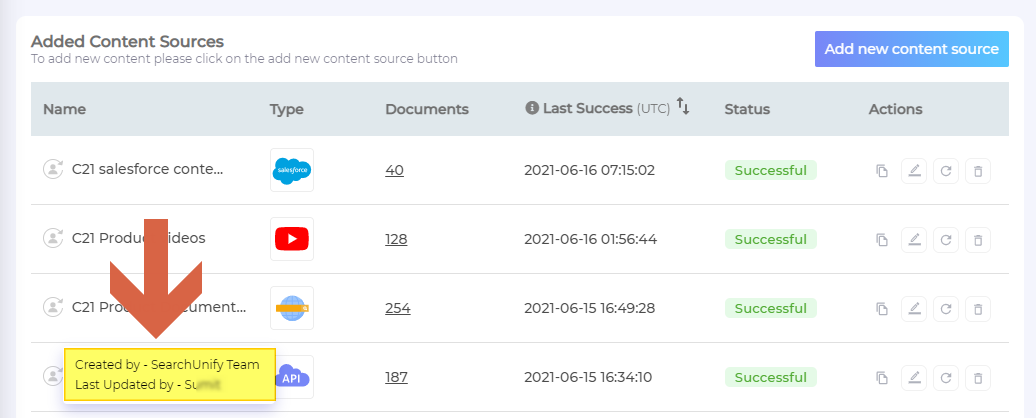 More Powerful Website Crawler Indexes Custom Fields
Indexing a web page is currently limited to three elements: HTML tags, CSS IDs, and CSS classes, but that changes after Colubridae '21. New methods allow Instance Managers to crawl custom fields and fetch information such as time, URL, or the value stored in a specified column and row of a table.
Khoros Crawler Can Index Group Hubs and Nested Categories
Group Hubs are a cool feature in Khoros. Starting from Colubridae '2021, you can crawl and index the data stored in Group Hubs. Also, C'21 brings support for nested categories (Category_nested and Category_flat) as well. And the good things don't end there. Native-filter Topics with No Result (renamed to Replied) are now searchable as well.
Search Clients
Colubridae '21 brings a refashioned screen to add search clients and edit content sources in it, an improved Create Formula feature, and a configurable way to set default preferences.
Revamped Way to Add Search Clients
We experimented with Content Sources categories in the previous releases, and it elicited rave reviews from Instance Users. So this time, we are extending categories to Search Clients. Instead of scrolling down all the way to find your search client, you can simply look it up or discover it in a category.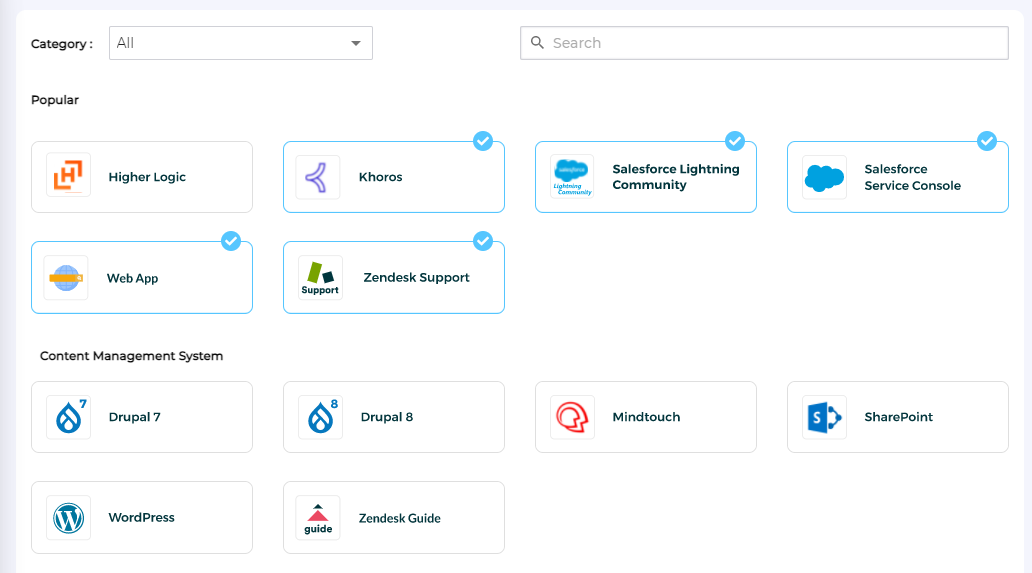 New "Edit Content Sources" Screen
The Edit Content Sources screen has been revamped. The most visible change is a new search box in the Field column. Using the search feature, an SU Admin can easily look up a content field. A sorting option (icon) is introduced in each field that gets the already selected values at the top followed by other unselected fields. Also, it is now possible to put together multiple fields to assemble a Title. For instance, you can club fields such as Case ID, Case Agent, and Created Date to create a title "AB12340 - Hikiro Mishima - 2021/09/21". The feature is named Compose Title.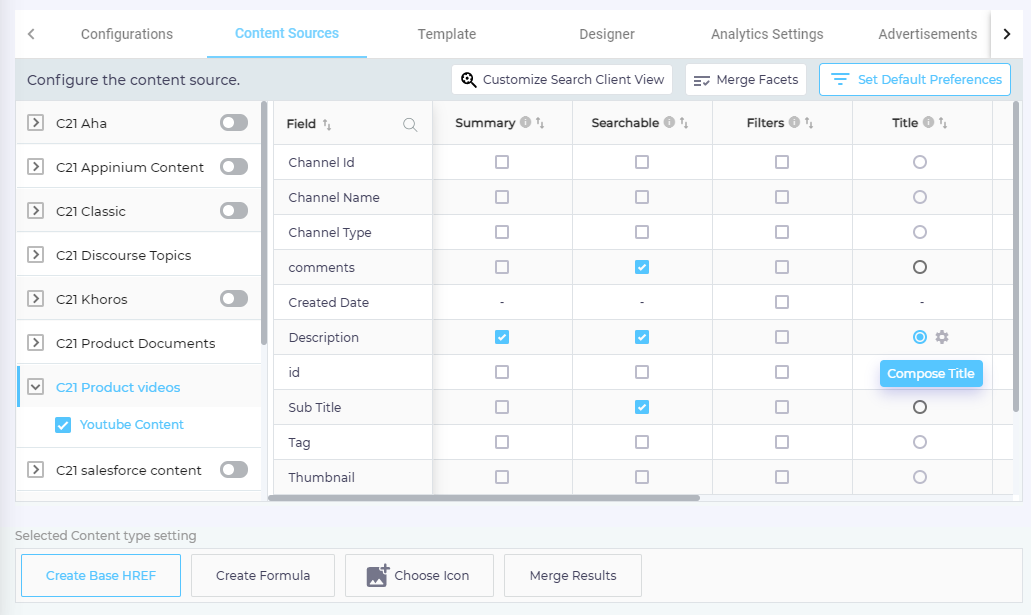 Updated Create Formula
In his A Brief History of Time, Stephen Hawking writes that he was told that each mathematical equation decreases the sales by half. In the whole book, he used only one: E = mc2.
After reading Hawking, one of our developers decided to do something with the scary-looking equations in Create Formula. He teamed up with a designer and both came up with Map Rules into Formula, where you can draw rules instead of stringing them into equations. The new method is visually appealing and more intuitive. For the geeks, the old system hasn't been dismantled. You decide whether to write or draw equations.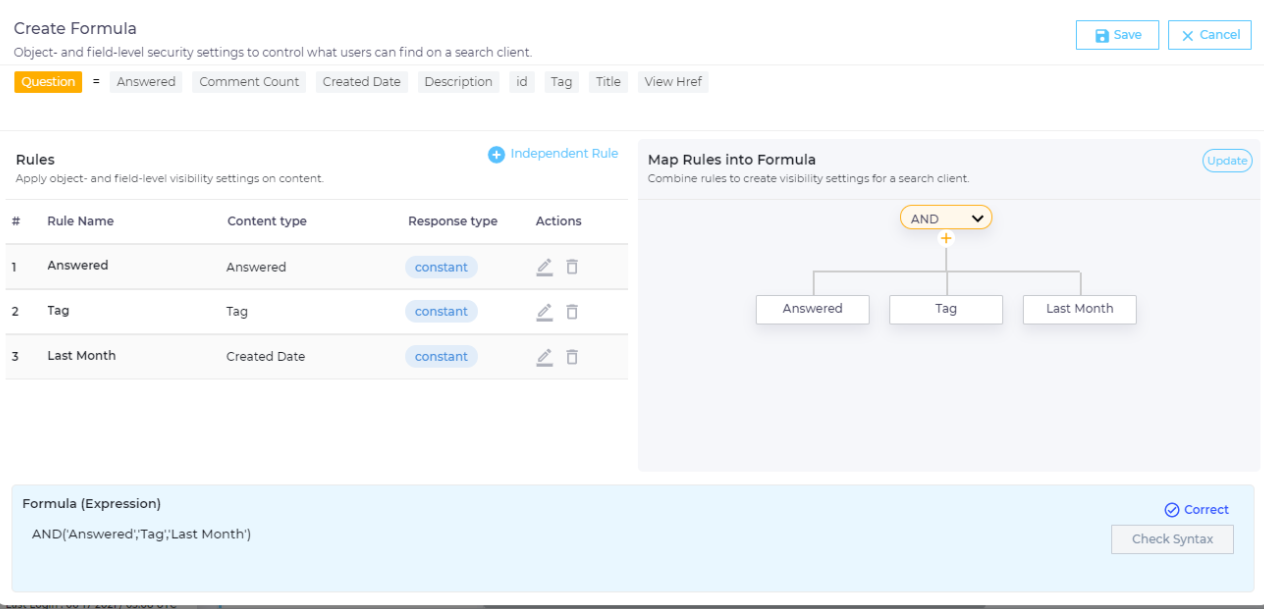 Index Nested Categories in Salesforce Knowledge
Now there is an option not to bundle similar categories into a filter. Out-of-the-box support for Category_nested means that you get to decide how deeply you want to crawl a group hierarchy. Values between 1 and 5 can be chosen and each hierarchical level gets its own set of filters.
"Change Default Preferences" Renamed to "Set Default Preferences"
Besides a new name, four new tabs have been introduced: Content Tabs, Facets, Label, and Summary Field. These new features make the search results page more configurable. An instance user can hide the content sources tab, reorder facets, tweak the summary text length, and even set the value that will appear in the content tag.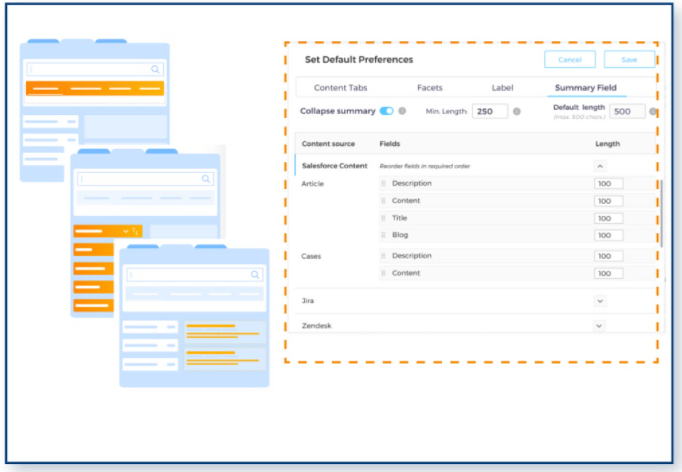 Trace Search Client Changes to a Person with "Who Changed Last"
Who Changed Last is for teams who collectively look after several search clients. It is possible for a teammate to add or remove a content source without notifying you. When such a thing happens, you don't have to lose time to hunt down the editor. Simply scroll down to your search client and hover the cursor over ICON in the Name. Creator of the search client and last editor will be instantly revealed.

Special Character Search in Search Client Configurations
Ampersand (&), Dollar ($), Asterisk (*) and many more special characters are now searchable. To use, simply turn on Special Character Search on Configurations. The complete list of support characters and the scenarios where they are searchable has been described in the linked doc.
Search Analytics
We are unveiling a completely revamped High Conversion Results Not On Page One report, more user-friendly Session Tracking Details, search and sort options in Search Report, and some new metrics in Tiles.
New Metrics Introduced in Tiles
On the Overview tab, the Clicks tile has gained a metric, Successful Sessions, where the sessions in which at least one search and click are performed are listed. On the Content Gap Analysis tab, the Searches with no clicks tile now has a Sessions with no clicks count, telling you how many sessions in the given searches did not contain a click. Finally, the Searches with no result tile on the Content Gap Analysis tab now shows the number of Sessions with no results.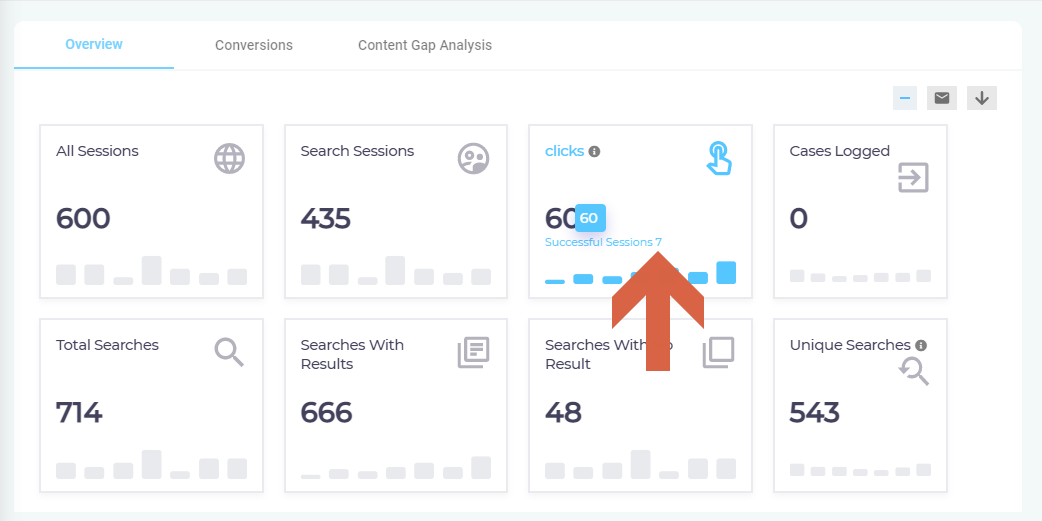 Another change in the Tiles manifests when you hover the cursor over a metric value. In a tooltip, the exact value of a metric is displayed. The first tile, All Sessions, can be 737K but on hovering you can spot the exact value 737255.
"High Conversion Results Not On Page One" Captures New Metrics
Instead of merely a list of documents that aren't on page one, you get a complete report on the sessions in which the documents are consulted and another report on click patterns. The new report is a content strategist's dream come true as it entails detailed session analysis including Document Title, Session ID, Search Query, Facet Selected, and much more.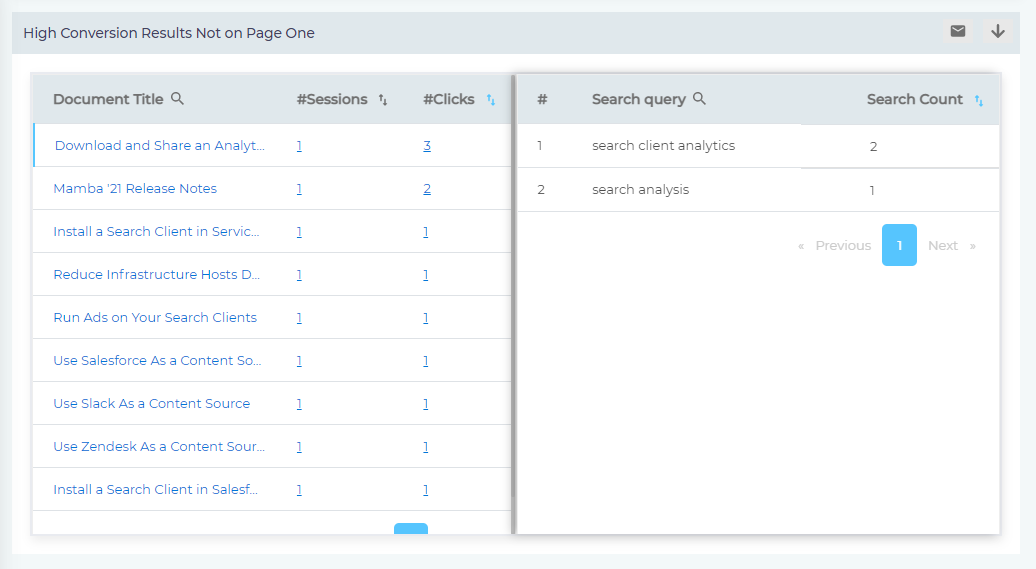 Searchable Queries, Sortable Users and Sessions in Search Report
You can pull any query in the Search Report by searching for it. The Query column is searchable now and Users and Sessions columns are sortable. The fourth column, Sessions, isn't merely sortable, but also contains facet reports. Clicking any row in the column opens a dialog informing you about the facets used.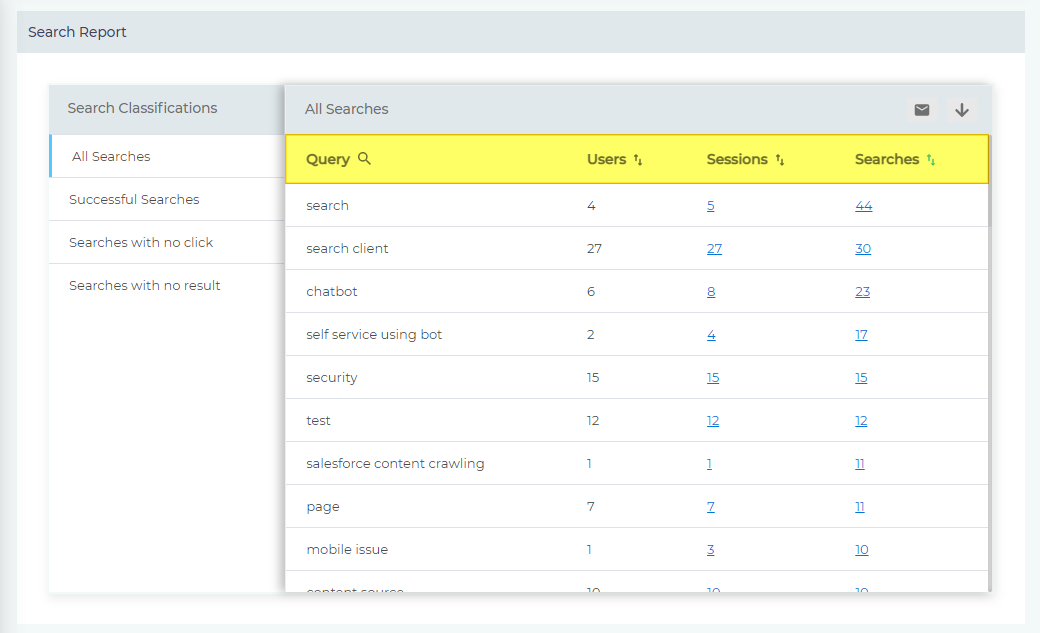 Exact Conversion Rate Visible in Session Analytics Overview
To indicate more precise values, the Session Analytics Overview report under the Conversions tab now shows the Case Deflection calculation up to 2 decimal places for Cumulative, Stage 1 and Stage 2 instead of rounding it off.
Leaner and Insightful Session Tracking Details
Quick Filters, Filter by Activity Type, Show Activity Type, and a new filter named Content Facets have all been moved to Apply Filters which can be accented from the top right of the report.
Content Facets allows you to filter sessions by content type. For instance, you can pull up sessions in which someone clicked a particular Product or a Category.
Finally, while sharing or downloading Sesion Tracking Details, you can choose to have information on facets and pick your favorite date format.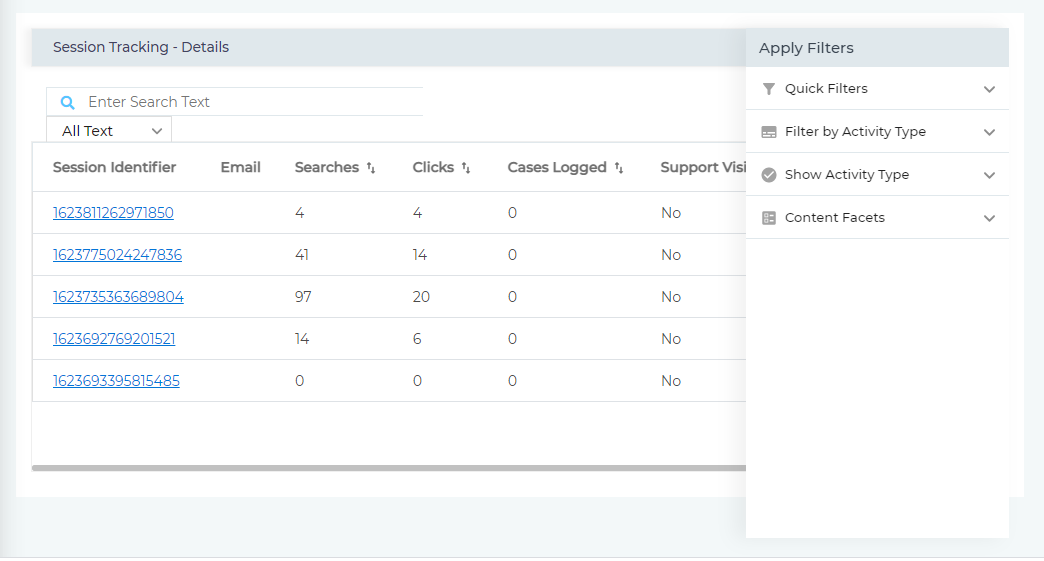 NLP Manager
NLP Manager now has the ability to group search queries based on Intent and turn off exact matches for Add Synonyms. Suggestion Removal has been renamed to Hide Suggestions, which can now be looked for under the Did You Mean tab.
Did You Mean and Suggestions Removal: Stronger Together
Suggestions Removal has been merged into the Did You Mean tab and renamed Hide Suggestions. The Did You Mean feature now houses two screens: Custom Dictionary and Hide Suggestions. The latter is used to hide Did You Mean suggestions for the select keywords.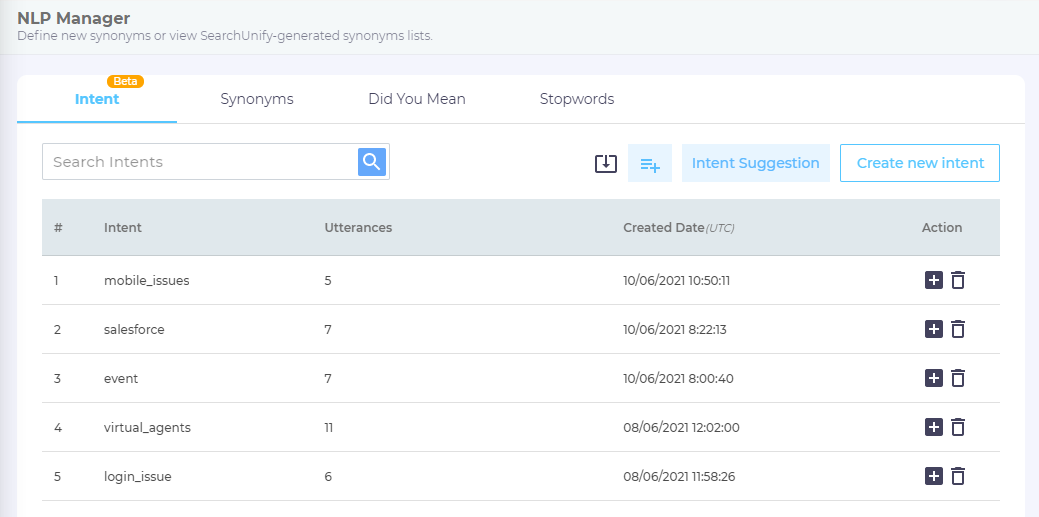 Turn Off Exact Matches in Add Synonyms
SU Admins can turn on or turn off word-order matches with Exact Match in Add Synonyms. When Exact Match is turned on "operating system" is treated as a phrase, but when it is turned off "operating system" becomes "operating AND system." Word order loses meaning. The option to turn off Exact Match is now available as a toggle in Colubridae '21.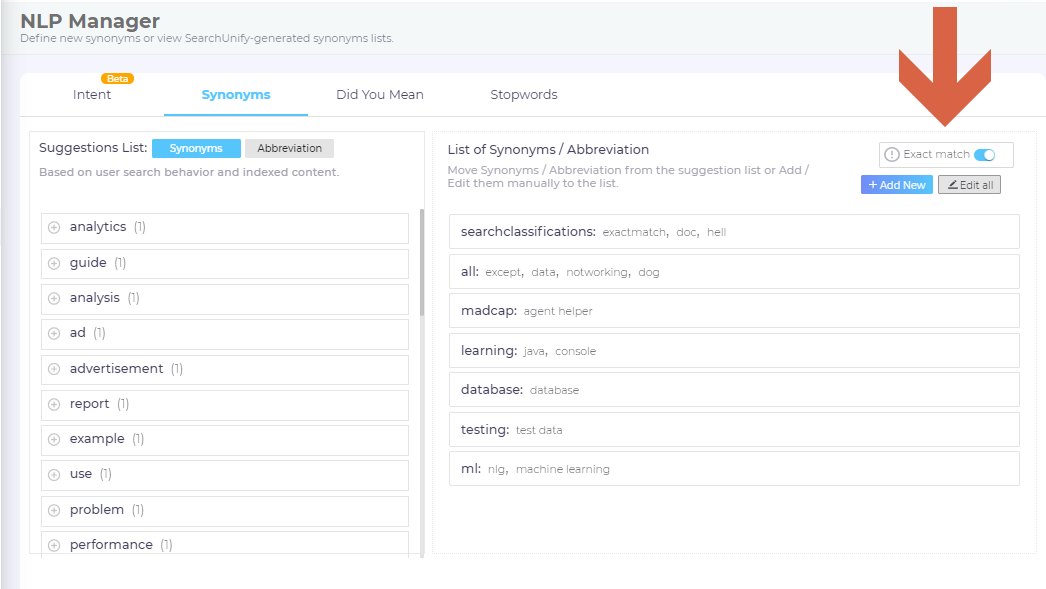 Group Similar Queries Into Intents ()
Intents group search queries into categories, and each category is assigned an intent. For SU Admins managing search clients with hundreds of thousands of queries a week, this feature helps them discover trends. For instance, 10% of queries are about installation, 30% about product issues, and so on. Intents are created with the in-built AI. To accelerate learning, you can upload any existing data on queries as well.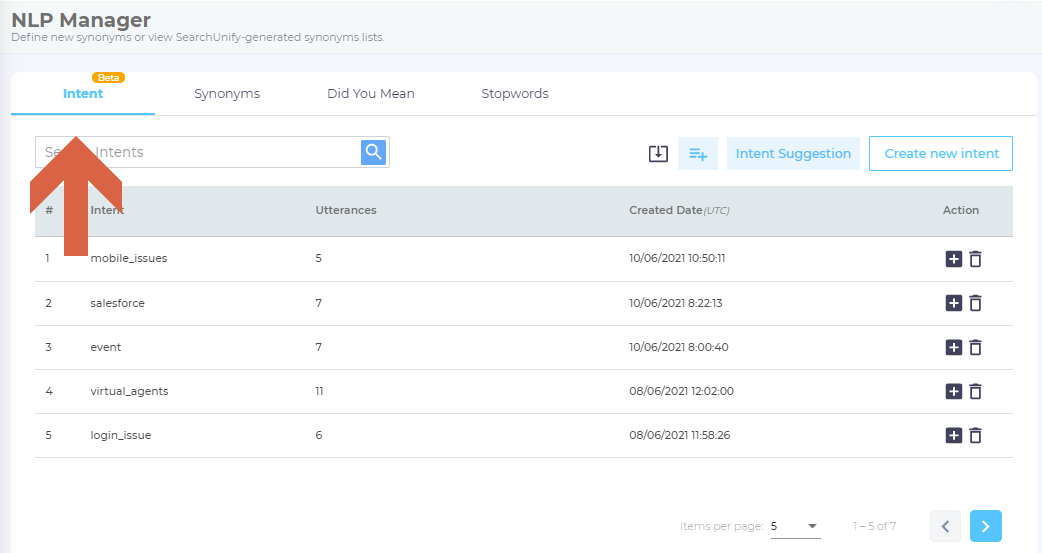 Search Tuning
A more structured interface is now divided into 3 sections - Auto, Manual, and Test Your Tuning. We've introduced a new Intent Tuning method, extended Keyword Tuning to synonyms, and allowed Content Tuning based on content fields and objects.
Boost Similar Queries with Search-Based Intent Tuning
Machine Learning finds its way in document boosting through Intent Tuning. It is similar to Keyword Tuning in the sense that you can boost a document for multiple keywords simultaneously. However, the difference is that, instead of boosting a document for a query and a few of its synonyms, Intent Tuning allows you to put a custom rank on a document for hundreds of thousands of similar queries based on the user intent. Search queries are analysed for intent detection under NLP Manager which are then utilized for Intent Tuning.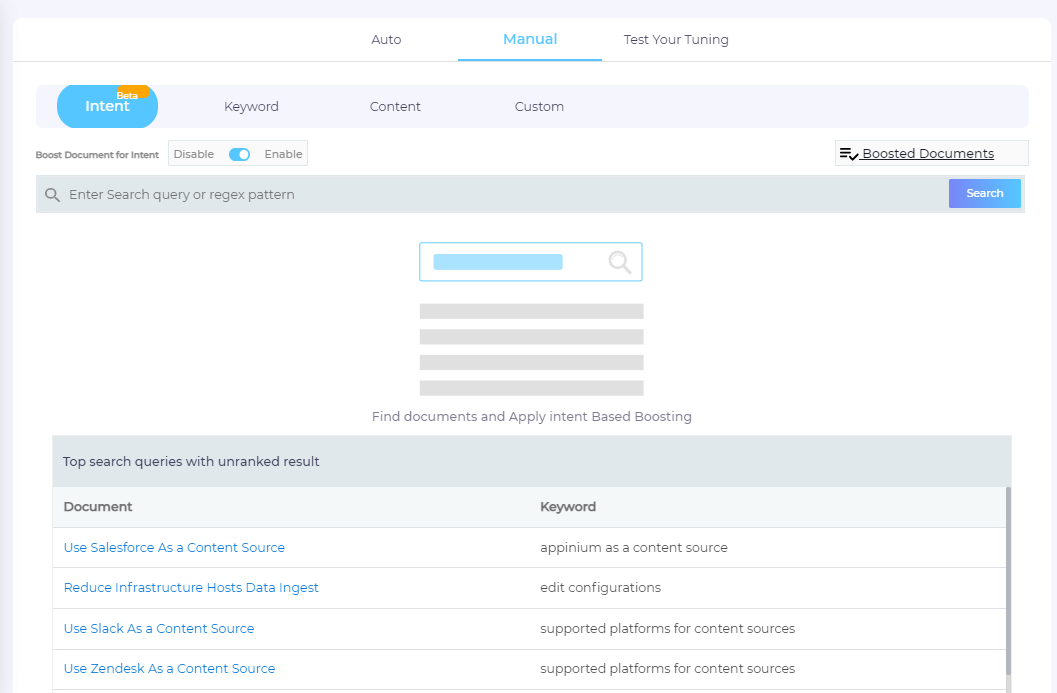 Keyword Tuning: "What's in a name?" or Synonyms Boosting
In the days of yore, you had to boost a document for "case" and "ticket" and its thousand synonyms. Fast forward to Colubridae '21 and if you boost a document for "case," it will be boosted for all the "case" synonyms as well.
Each Object and Field Counts in New Content Tuning
Until now, you could boost all the documents for, let's say, YouTube, Salesforce, or Zendesk. It was a useful feature, but Colubridae '21 makes Content Tuning indispensable. Instead of pushing up all the documents in a content source, you can fine tune boosting to objects and content fields.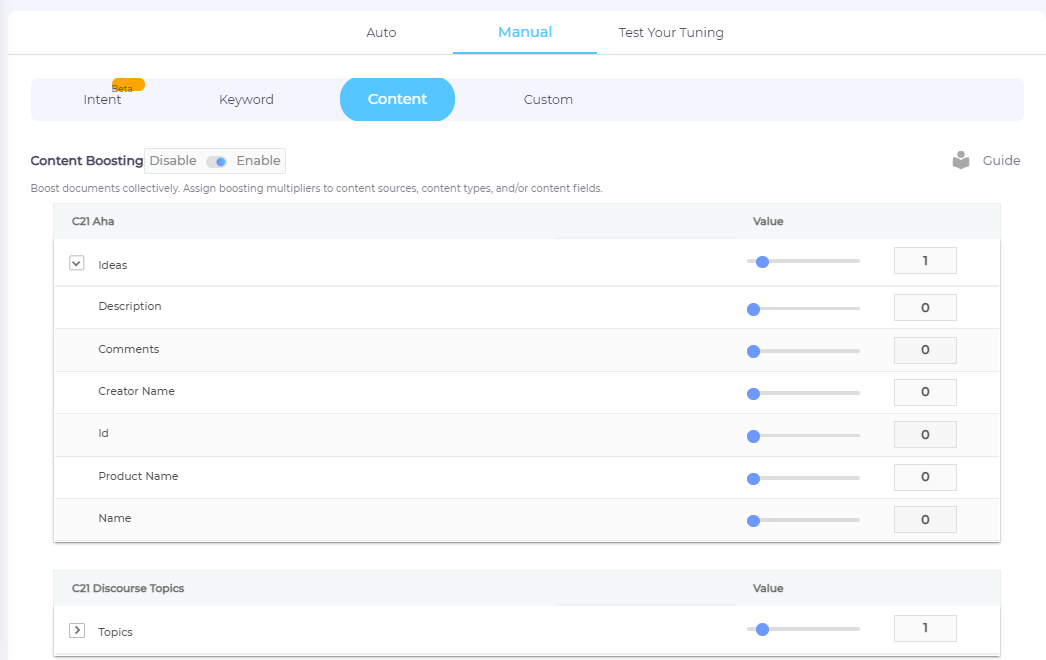 Test Your Tuning Unveils the Mystery of Rank
We've always had a sense of the impact of keyword boosting, content boosting, and custom boosting on a doc. After the current release, this sense has been transformed to concrete knowledge. Next to each result in Test Your Tuning, you can find the doc's organic rank, the impact of all kinds of boosting on it, and the boosting rank. If you find the explanation useful, simply email search results with an explanation to your teammates. You can share up to 20,000 search results in an email.
Keyword Boosting: Boost Once, Use a Trillion Times
SU Admins spend a long time customizing their search engine for end-users. For most, the tinkering never stops. Now imagine their plight if they have to redo the whole thing for a new set of similar users. The newest version of Keyword Boosting is exactly for such scenarios. The Admins can simply copy all the keyword boosting settings from one search client to another with the click of a button. That's how easy it is.
A second change is a Boosted Queries column. An SU Admin can now look up documents boosted by keywords, change their rank, and add more keywords to the boosting.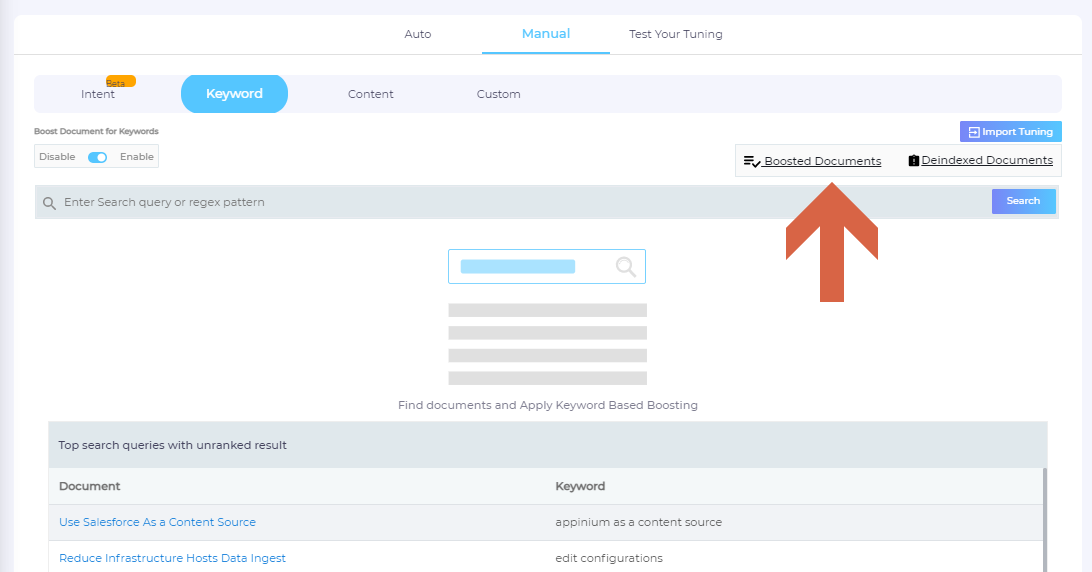 Administration
New release brings the freedom to select Content Source Alerts according to requirement, My Account is renamed and moved, and Admin Logs now tracks major changes made across the instance.
Renamed and Moved: "My Account" to "Account Information"
Stay on top of Usage Details, view all SearchUnify instances, and obtain Account Details from the "My Account" tab, which has been rebranded to "Account Information." Besides being renamed, the tab has moved from Menu to Administration. Change your bookmarks!
Count Successes and Failures with Content Source Alerts
Successful. Failed. Successful. Failed. Successful. Failed.
To some, the notification emails after each crawl are music; but for others, they're an irritating noise. The new Content Source Alerts settings are for both groups. The former can subscribe to "All" alerts and the latter, depending on their requirements and preferences, can choose to stay on top of either "Successful" or "Failed" crawls.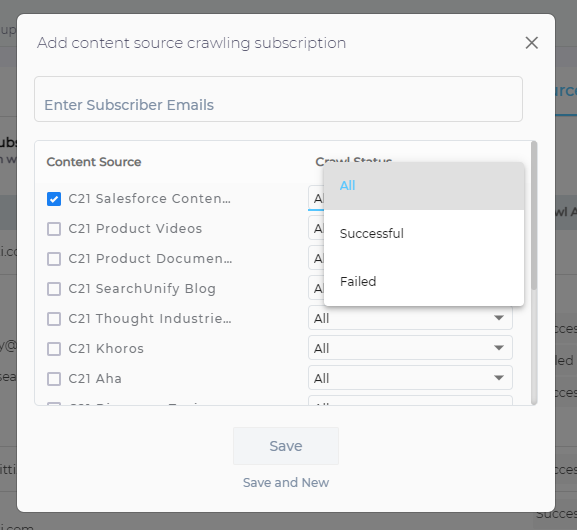 Track Changes to a Person with Admin Logs
The new "Admin Logs" tracks all changes in Content Sources, Search Clients, Search Tuning, NLP Manager, API, and Apps. Data up to six months old can be pulled up in batches of one day, one week, or even three months.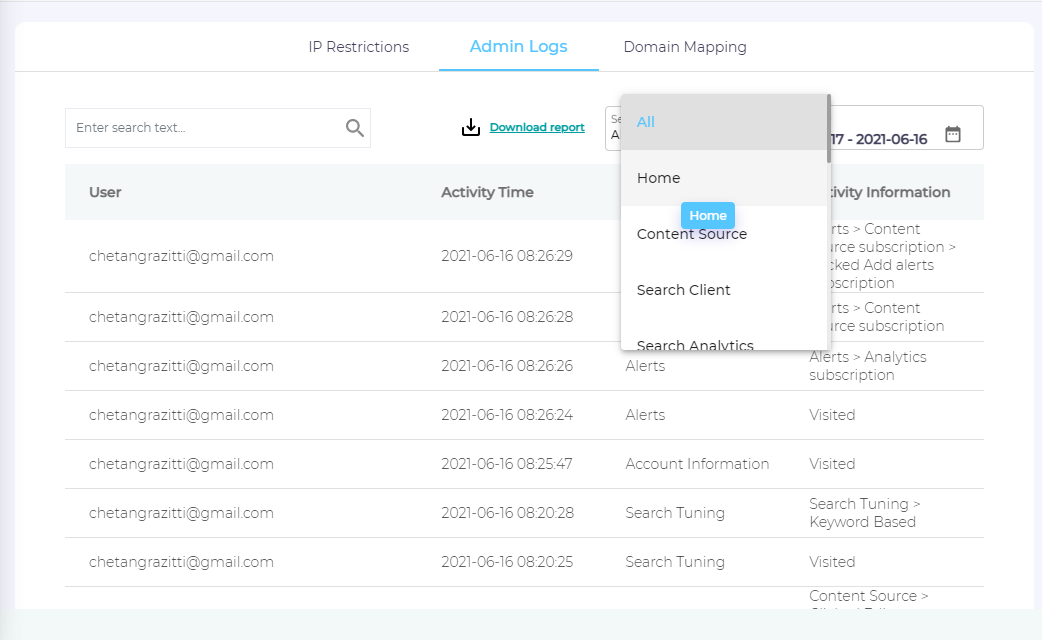 Apps
Emojis in Escalation Predictor, a new editor in KCS Support Console, and a brand new experience for chatbot managers and end-users are awaiting you in C '21.
Reign of Emojis in Escalation Predictor Kicks Off
Emojis have come a long way since they were first used by computer scientist Scott Fahlman in 1982. Today you can find them on all the major social media platforms. With Colubridae '21, SearchUnify has put them to use in an enterprise setting. On updating your instance, you will find a revamped Escalations Dashboard screen where key snippets from a case description and a bunch of emojis reveal a customer's mood.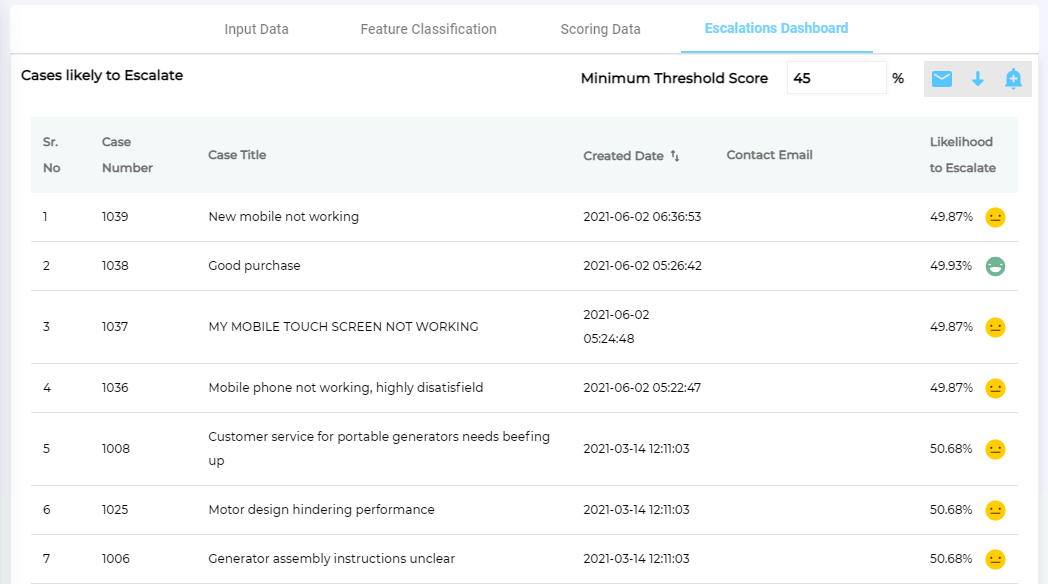 KCS Support Console Has New Features for Admins and Support Reps
The KCS Support Console configuration dashboard offers the same experience for both Salesforce Classic and Salesforce Lightning. SU Admins can also configure draft visibility settings. As for support agents, they can now create, edit, and share articles right from inside the app. Not just that, they get a new WYSIWYG editor, which means that they can more easily adhere to smartlinks, indentation, and font style guides. Also, depending on visibility settings, they can view other agents' articles as well.
Meet StoryBoard: Chatbot Conversations' Cleaner, More Visual Avatar
In the old Conversations, the nodes (Intent + Response) were listed one after another. It was impossible to find the connections between them quickly. StoryBoard (earlier called Conversations) changes all that. With a new view, anyone can figure out immediately how nodes come together in a story.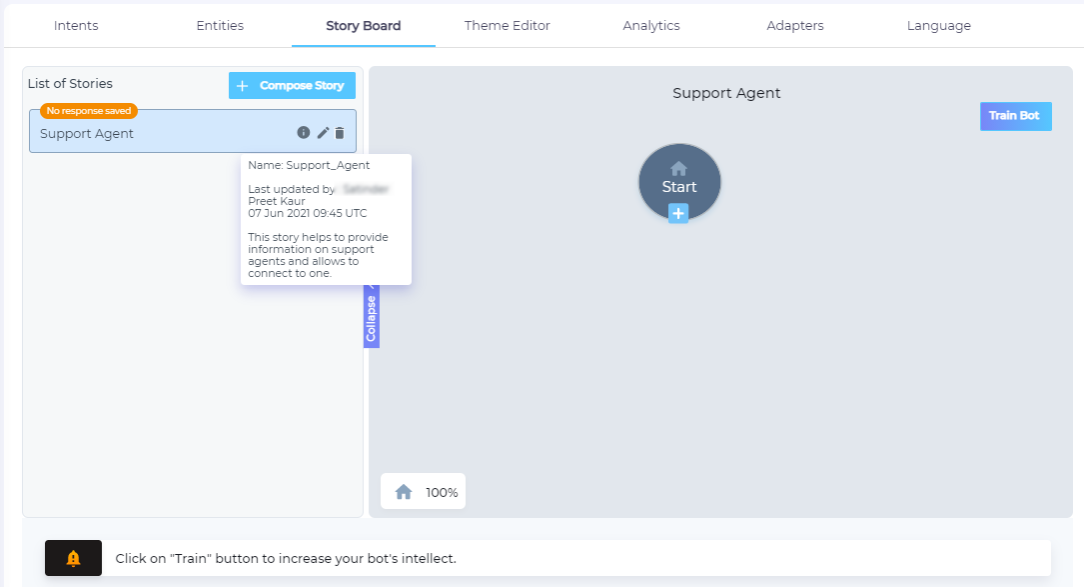 The new interface is more than just eye candy. Previously, SU Admins had to select the intent for each node. For 20 nodes in a story, they had to select an intent 20 times. C21 changes all that. With one intent selection, admins can create a story with 20, 50, or any number of nodes.
On top of all these improvements, SU Admins also get more control over conversations through Pause and Skip (for response types Options and Prompt). They can also improve the Hybrid Chat experience by offering end-users the ability to connect with a Salesforce agent right in the chat window. Right now, a pop-up is the only way to connect and available only for the Salesforce platform.
Support teams on Zendesk can celebrate as well because support for hybrid-chat (virtual agent and support rep) has been extended to the Zendesk platform.
Create Cases, Talk to Agents, and Find Articles with Adapters
Four adapters have been reorganized into four categories: Create Case, Create Discussion, Connect to Live Agent, and Fallback (SU Adapter). With Lithium and Salesforce adapters, you can empower end-users to create cases and discussions. With Salesforce and Zendesk adapters, you can allow end-users to connect with a support rep. Finally, the SearchUnify adapter brings relevant content right inside the chat window when all else fails.
New Configurations in Theme Editor
A downside of multitasking is that you can start a chat with a virtual agent and then forget about it. A new configuration in Theme Editor allows SU Admins to show a pop-up whenever the end-user goes idle. The Admins can specify the inactivity period after which an end-user will be considered idle and write a custom message either on the virtual agent icon or right inside the chat window.
View Messages from the Past with Chat History
It is sometimes useful to be able to view chat history to recall why you started a conversation in the first place. In such scenarios, simply scroll up to view chat history. In Virtual Agents powered by Colubridae '21, chat history is maintained until the end user explicitly resets (deletes) it or the search session ends.
Bye Bye, Bugs! 
Don't lose settings after you reindex a content source. Right now, when you reindex YouTube, all your settings in Search Clients > Edit > By Channels vanish. This has been fixed. Now you can reindex any of these content sources without losing settings: C21. The other content sources impacted are: Vimeo, Slack, Jira, Sharepoint, Github, Confluence, Zendesk, Khoros, Azure, Higher Logic, and Service Now.
Be on top of applied advanced filters and facets. What was the filter that you applied? What is AND, OR, or Exclude? Such questions become history with C'21. End-users can clearly see advanced filters and applied facets right on the search results page.
Search operators are more intuitive now. How does SearchUnify interpret a query such as keyword_1 AND keyword_2 OR keyword_3? There was much confusion around that. But that has been fixed by the developers and the new documentation