Clone a Search Client
Cloning a search client means generating a replica of a search client with exact same configuration but with a different name. Cloning can save you much time and effort when you need identical search clients in two or more places. If you have a search client on your community that fetches results from across all your websites and someone asks you to set up a similar search client on your corporate website, then the fastest way to proceed would be to clone your community search client. This doc explains how to do it.
NOTE.

Before cloning, ensure that you have the search client to be cloned. Refer to Add a Search Client to learn how to create a search client from scratch.
Clone a Search Client
From admin panel, navigate to Search Clients.

Find the search client for cloning and click .

In Enter Name, give your clone a label, which should be different from the search client being cloned.

The most attractive part about cloning is that you can create a replica for a different platform from Select Search Client. A Zendesk search client can be cloned to a Salesforce, Khoros, or Website search client. The new search client has a new UID but the exact same configurations. If the original search client is linked with four content sources and has 10 tuning settings, then the new search client will also be linked with four content sources and will have 10 tuning settings.

Click Clone to finish.
Reset Default Template
This configuration appears during the cloning of a search client for the same platform. For example, you can see this setting on cloning a Salesforce Communities search client to a Salesforce Communities search client but it doesn't appear when you clone Salesforce Communities search client to a Khoros or Website search client.
Toggle on Reset to Default Template to obtain a vanilla search client. However, if you want your custom search templates to be cloned as well, then don't turn it on. The configuration is turned off by default.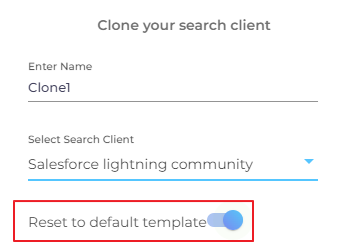 Cloning a Web Search Clients
When cloning a web search client, such as Website, Drupal, and WordPress, you can choose between two experiences: Legacy and Imperium.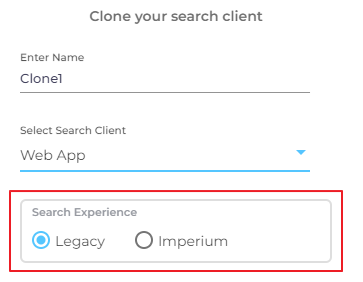 Imperium is faster and newer. In the following months, all web-based search clients will eventually be ported to Imperium. Currently both Legacy and Imperium are supported.