Search Experience after Conversion
Search Experience is the rightmost tool in End-User Feedback. Through it you can get user input on search pages in two ways. The first method is to ask an end-user to rate experience. The second method is to ask end-users to rate experience and write a detailed feedback; the feedback is optional.
The widget asks for feedback only after an end-user has clicked at least one result. The clicked results turn orange and a kebab menu appears next to them. The user can click the kebab menu to share feedback.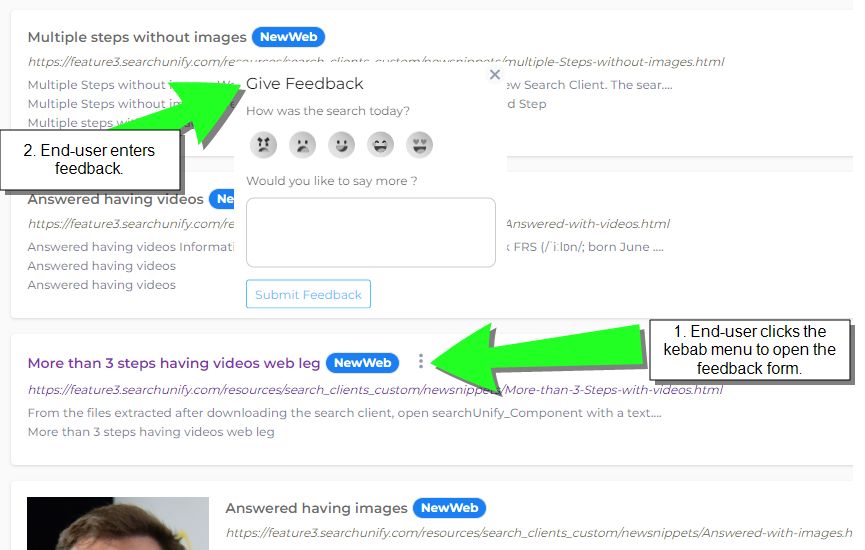 Configure Search Experience after Conversion
Open a search client for editing and jump to the End-User Feedback tab.

In the rightmost tab Search Experience after Conversion, click Configure.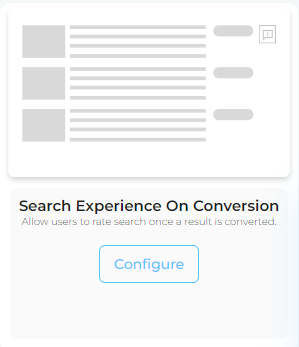 Configure Search Experience
Search Experience Feedback screen consists of 8 configurations. Each is covered next.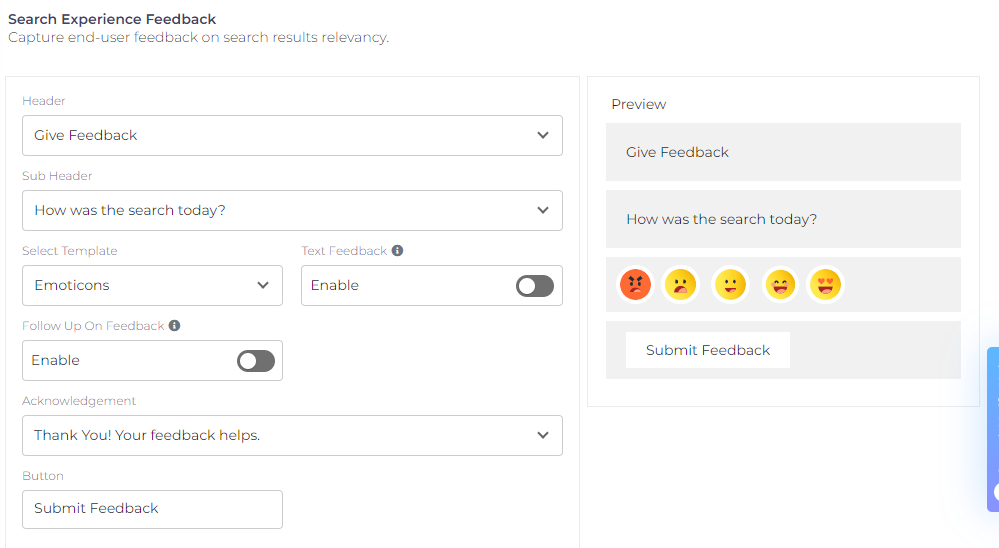 Header and Sub Header are prompts which ask end-users to rate their search experience. You can implement a Header and Sub Header from templates or write your own using the Create Your Own function.

In Select Template, you have a choice between two scales: Stars and Emoticons. Pick either.

Text Feedback allows end-users to do more than just rate their experience with a simple click. It allows them to write detailed responses which are shared with all the admins of a SearchUnify instance. The feature is disabled by default.

To use it, toggle it on. On activation, a new configuration appears: 
Text Feedback Heading is a prompt urging end-users to write a detailed feedback response. You can select the prompt from templates or write a new one using Create Your Own.
Follow Up On Feedback is for SU Admins who want to contact end-users for a more detailed feedback. By turning on this widget, they can ask for their explicit consent.

When you turn it on, two new fields appear. The first is Follow Up On Feedback Heading, which asks for consent. The second is Email where the end-users enter their email to which SearchUnify admins can follow up.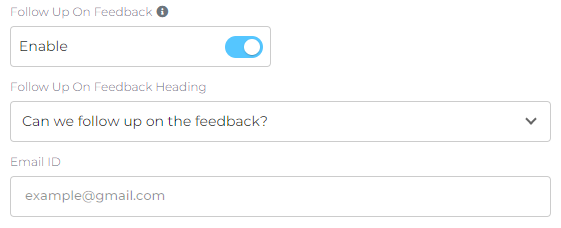 Acknowledge is an expression of gratitude to the end-users who leave a feedback. You can use an acknowledgment form existing templates or write your own.

Button is what an end-user has to press to submit their feedback. The text on the button can be customized.

Saving Changes
Once you have made the changes, scroll up and click Save. None of the changes are implemented if you click Cancel.

Activation
On saving changes, the End-User Feedback screen reappears. To activate the feedback mechanism on your search clients, click Enable.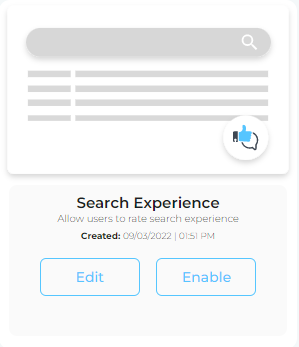 You can always use Edit to change feedback configurations. However, once activated, it's impossible to delete feedback forms. However, you can Disable feedback forms when they are no longer needed.