Use StackOverFlow As a Content Source
Add Stack Overflow as a content source using three easy steps:
Step 1 - Click the 'Content Sources' tab on the left sidebar
Step 2 - Click the 'Add New Content Source' button to view the content sources
Step 3 - Select 'Stack Overflow' tab to proceed
When you select the Stack Overflow tab you will be redirected to the configuration screen. This is divided into three subsections:
Authentication
Frequency
Rule
Step 1 - Authentication
Enter details such as:
Name - Enter the API name of the Stack Overflow object you want to add.

Step 2 - Frequency
Set the frequency, which includes
Start date- - It defines the date when the sync starts
Frequency- - It defines fixed intervals at which the content needs to be updated

Step 3 - Rules
The Rules section is divided into two parts:
a. The By Content Type tab allows you to sync information by content type.

Enter the following details:
Name - Enter the API name of the object
Label - Enter the label for the object
Type - Select the type
Searchable/Filterable - Select whether you want the field to be searchable (will appear in search results) or filterable (will appear in filters)
Action - Click on "Add /Add All / Remove All" accordingly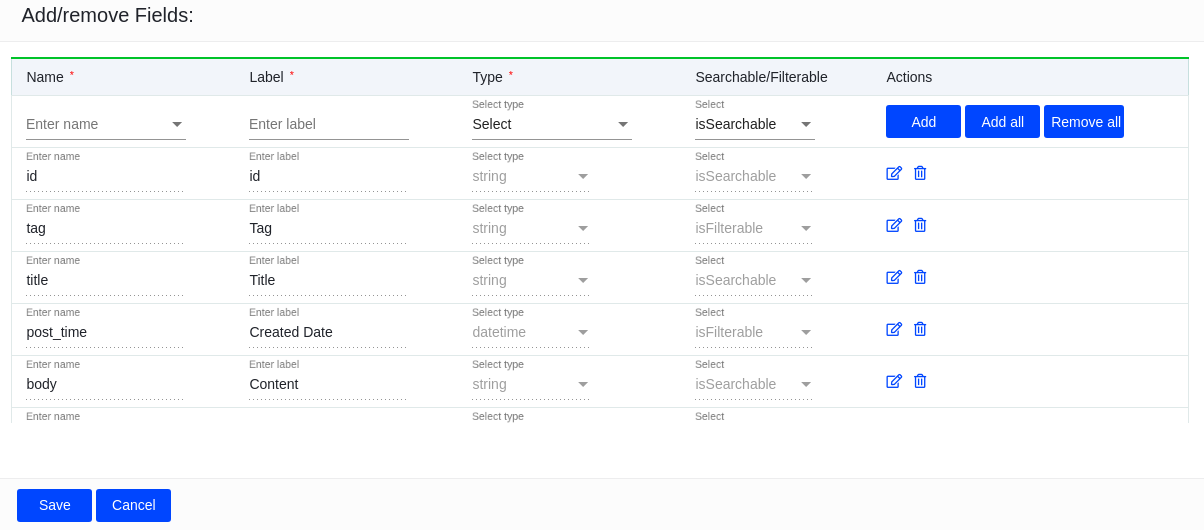 b. Go to the 'By Tags' tab to sync information by tags.
Click on respective initials of tags names to activate:
Name - It displays the name of the tags on the platform by alphabet
Is Enabled - Check off the box for boards that you want to sync

Last updated: Tuesday, June 23, 2020