Your Admin Home Menu Bar
Menu Bar is the ribbon on the top of a SearchUnify instance. It contains eight items: 

(View or Hide Navigation), Search Bar, Help, Dark Mode,

(Full Screen Mode),

(Announcements and Notifications), User Profile,

(Find Super Admin).

View or Hide Navigation
Click

to keep Main Navigation out of sight when you are accessing SearchUnify from a small screen. To bring it back, hover over the collapsed menu to find

and click it again.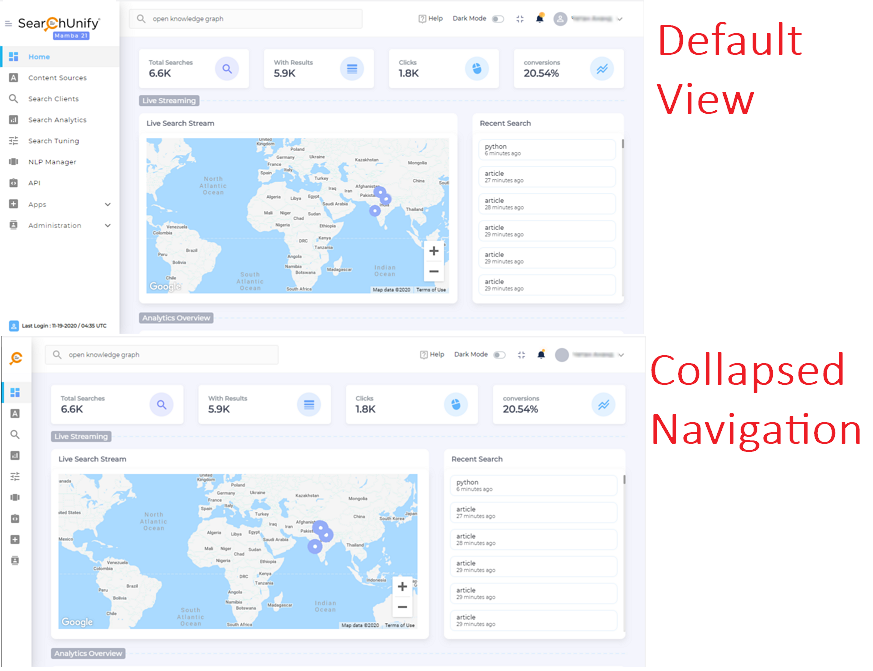 Search Bar
Search Bar provides quick access to SearchUnify features and documentation. Its use is optimal for admins who wish to jump straight to a feature embedded deep in navigation.
Features
open <FEATURE_NAME>. Prefix your query with open, click Space, and then write the name of a feature to jump to its screen.

<FEATURE_NAME> in <MODULE>. Refine your search with the in operator, which reduces the scope of search to the specified module.
Help
Clicking Help takes you to the SearchUnify documentation homepage.

Dark Mode
SearchUnify has two skins: Light and Dark. You can switch between them by toggling Dark Mode.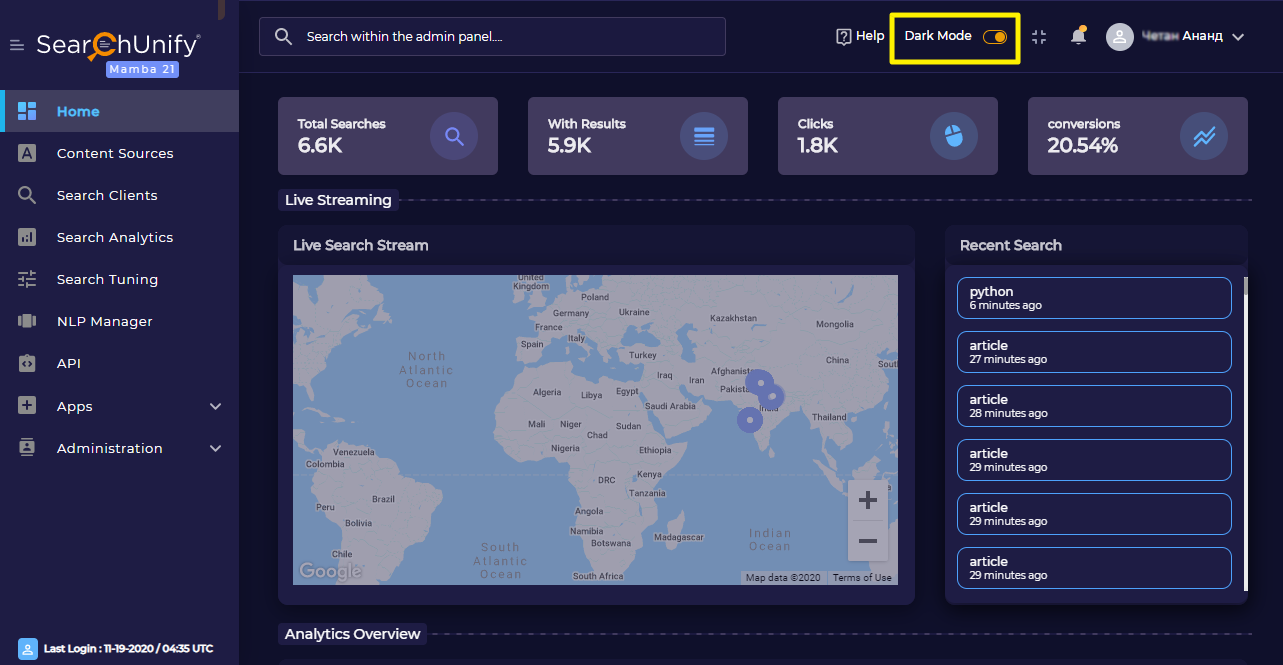 Full Screen Mode
Click

to switch to the full screen mode. To return, press ESC.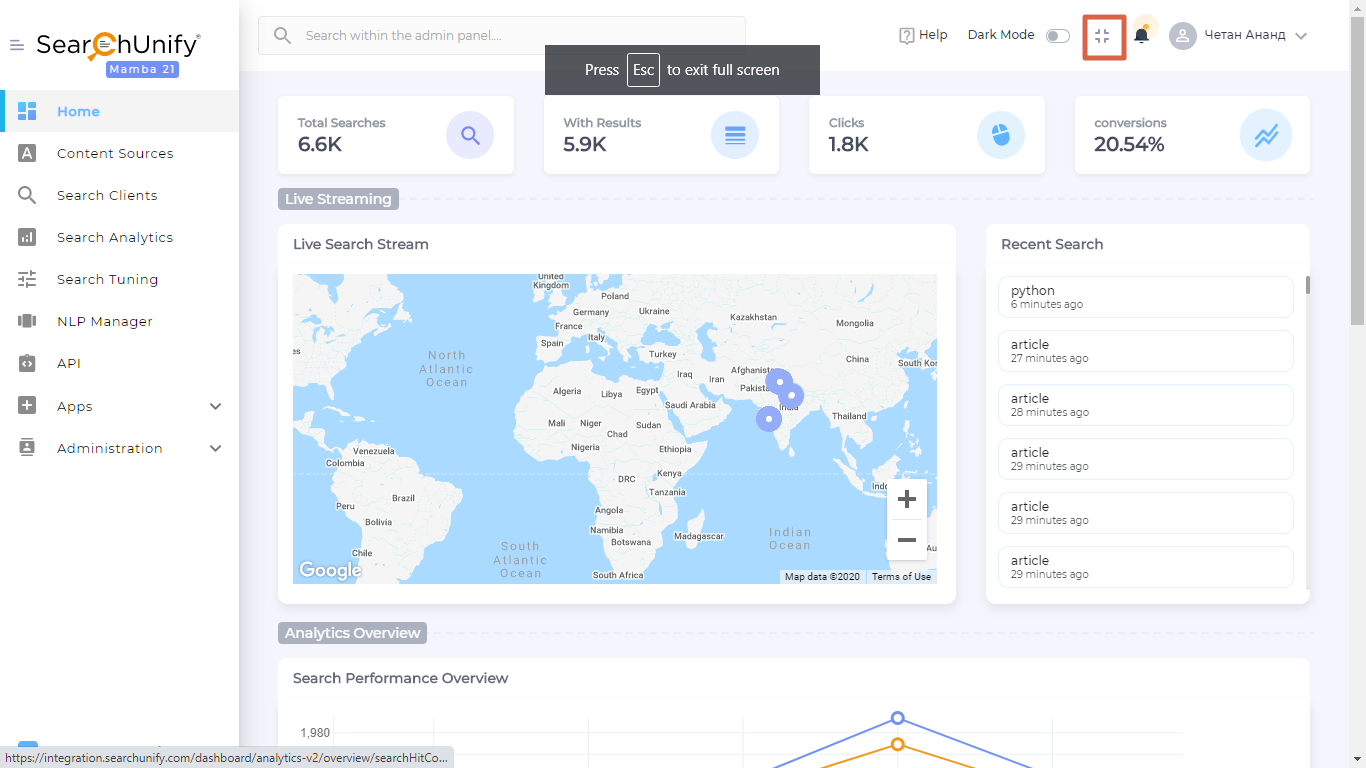 Announcements and Notifications
Clicking

launches a message box with two tabs: Announcements and Notifications.
Announcements are updates on the health of search.
Notifications are messages on updates, outages, and launches. These messages are from the SearchUnify team.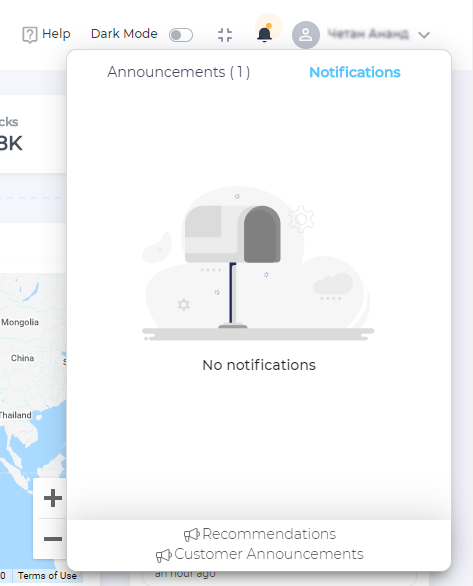 User Profile
A user in a SearchUnify instance can adopt one of the following three roles: 
Super Admin. There can be one, or at most two, Super Admins in an instance. A Super Admin can add and remove Admins and Moderators, change access control settings for Admins and Moderators, and make calls to any API.
Admin. An admin can add and delete Moderators, and set Moderator access. For example, the Admin can give a Moderator access to a tab, all tabs (except Manage Users), or any combination in-between. Besides, an Admin can add new users as Admins but cannot delete any Admin role.
Moderator. A moderator can never add or remove users. The permissions are limited to what an Admin has assigned.
User Profile offers four configurations: Help Link or Bot, Change Password, Timezone Settings, and Log Out. Each configuration has been outlined in Customize Instance for Admins in User Settings.

Find Super Admin
Clicking

reveals the Super Admin of your instance, in case there is one. In the image, you can see that Hippolyte Fauche is an instance user (Admin or Moderator) and Sumit is the Super Admin.