Install a Search Client in Adobe Experience Manager (AEM)
Find information faster on Adobe Experience Manager (AEM) with SearchUnify. This article walks you through the process of installing a SearchUnify search client in your AEM community.
Installation Overview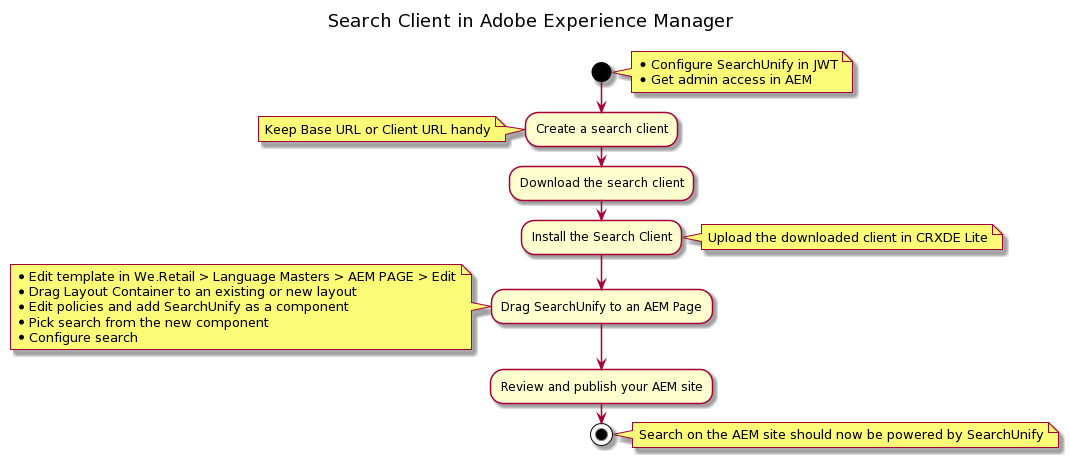 .
Prerequisites
Create a Search Client for AEM
Label your search client in Enter Platform Name, enter your AEM instance URL in Base URL, and ClientURL/bin/acme/SearchUnifyToken in Enter Token URL. Enter a value (less than expiry time of a JWT Token) in Token Expiry Time (in Milliseconds). Then, click Save .

What is a Base URL?

The Base URL is the constant part of the web address. In the following list, the highlighted part is the Base URL:

https://docs.

searchunify.com

/Content/Home.htm?_ga=2.209252050.1565904849.1588836421-2082224334.1582540772
https://www.

searchunify.com

/company/about-us/
https://www

.searchunify.com

/
You will land on the Search Clients screen after clicking Save.
Install a Search Client in AEM
Download your AEM search client.

Log into your AEM Community as an admin.

Upload the zip folder (downloaded in step 1) and save your settings by clicking OK. (Accept Force Upload if the system prompts you.)
Here, SearchUnify has been successfully installed on your AEM instance.
Drag SearchUnify to an AEM Page
Once installed, SearchUnify behaves like an AEM component. The next steps show how you can drag the component to a page where the search will work. For the sake of demonstration, the search will be installed on a page titled AEM SU.
To start adding layouts, click + and look up "layout."<![CDATA[ ]]>

Pick Search.

Insert your AEM instance URL and SearchUnify client UID in the opened form.

Preview your page and then publish it.
Result
After clicking Preview, you will land on a SearchUnify search client on an AEM website.