Enable Rich Snippets and Rich Cards
Rich Snippets and Rich Cards enrich user experience when an end-user wants definitions, tips from instructional articles, images, and videos right on the search results page. It is capable of extracting four kinds of data from HTML pages: 
Facets. Short answers consisting of a word or an entire sentence. Example: For the query [searchunify mamba '21 release date], Facets provides the date "October 29, 2020".

Instructions. Ordered (ol) and bullet (ul) lists. This facet is triggered by questions starting with "How to." Example: In response [to how to setup virtual agent in searchunify], Instructions tells you how to start.

Images. Pictures where they are relevant and exist. PNG, JPEG, JPG, and other major formats are supported. Example: Images responds with three pictures in answer to the search query [searchunify apps].

Videos. Tutorial, demonstration, and other videos where they exist and are relevant. MP4, HTML5, and other major formats are supported. Example: For the query [virtual agent], you can see a video right inside a rich snippet.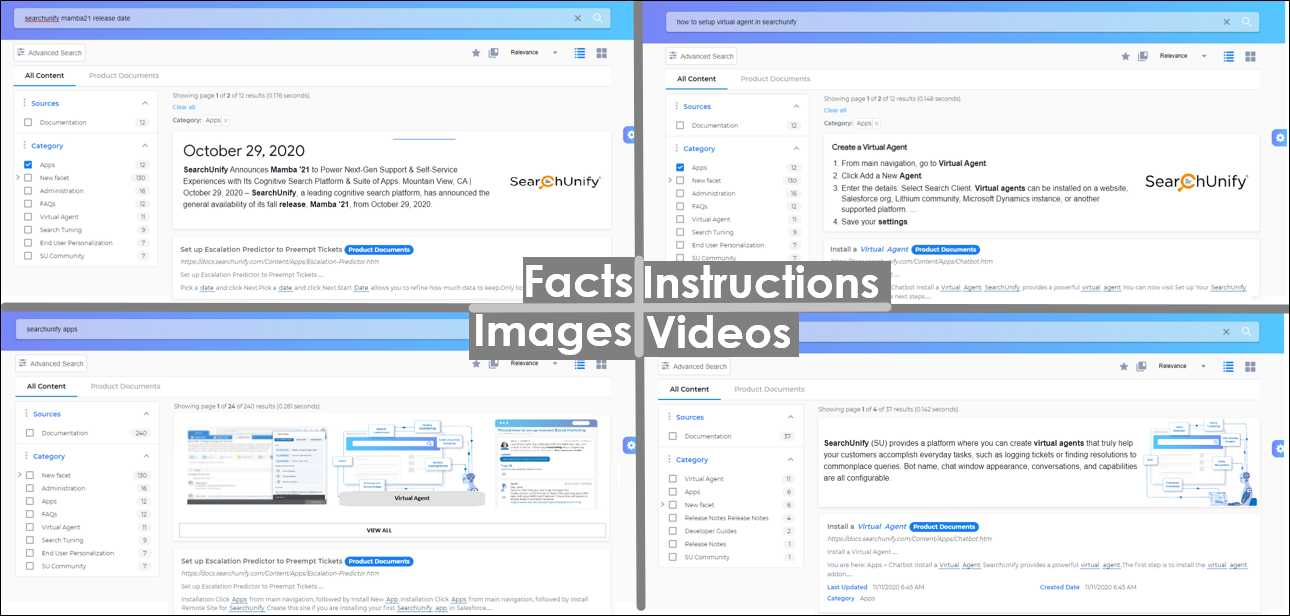 Turn on Enable Rich Snippets
To activate this feature on a search client, turn on Enable Rich Snippets from Auto Tuning in Search Tuning. Before turning on Enable Rich Snippets, ensure that you have the correct search client in Select Search Client.
NOTE.

Rich Snippets works on four content sources: Website, Khoros and Zendesk, and Salesforce Knowledge Base.
Select a search client where auto boosting will be applied.
To turn off rich snippets, select a search client and toggle Enable Rich Snippets to the left.
Best Practices for Writers
Writers can arrange their content to ease extraction and display. The suggestions are on Structure Content for Rich Snippets: Tips for Writers.
Related
Last updated: Wednesday, September 20, 2023Or, send us your review at help-feedback@searchunify.com