Getting to Know Your SearchUnify Dashboard
Home is an abridged story of search on your website, community, or another platform. The story is told through four tiles—Total Searches, With Searches, Clicks, and Conversions—and three sections: Live Streaming, Analytics Overview, and Recommendations.
Each section or tile covers a key part of search experience, including: How popular search is among your employees and customers, how useful search clients are, where the searchers are from, and what you can do to enhance search experience for everyone.
Navigation Panel
The Navigation Panel provides access to the SearchUnify features that an admin needs to index a content source, set up search, monitor analytics, and everyday administration. The modules used most often are a click away. They include: Home, Content Sources, Search Clients, Search Analytics, Search Tuning, NLP Manager, and API.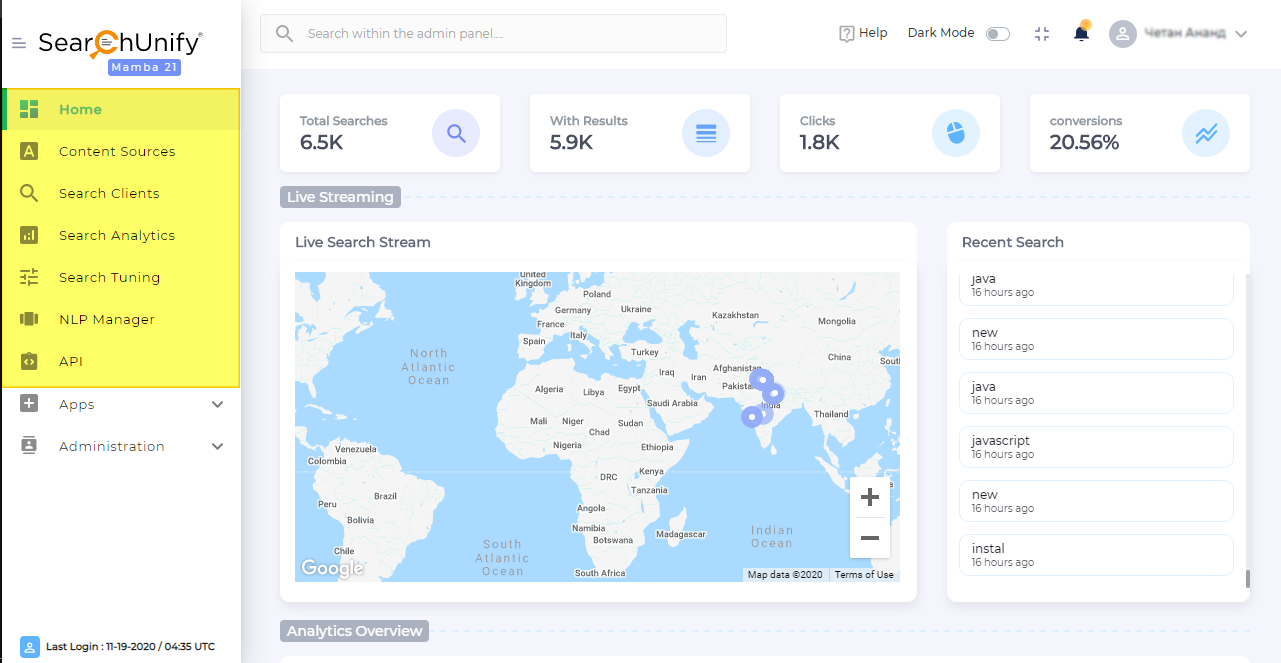 The last two modules are customizable. Clicking Apps takes you to the Apps Store where you can install new programs on your instance to extend its functionality. The added programs can be viewed by expanding Apps.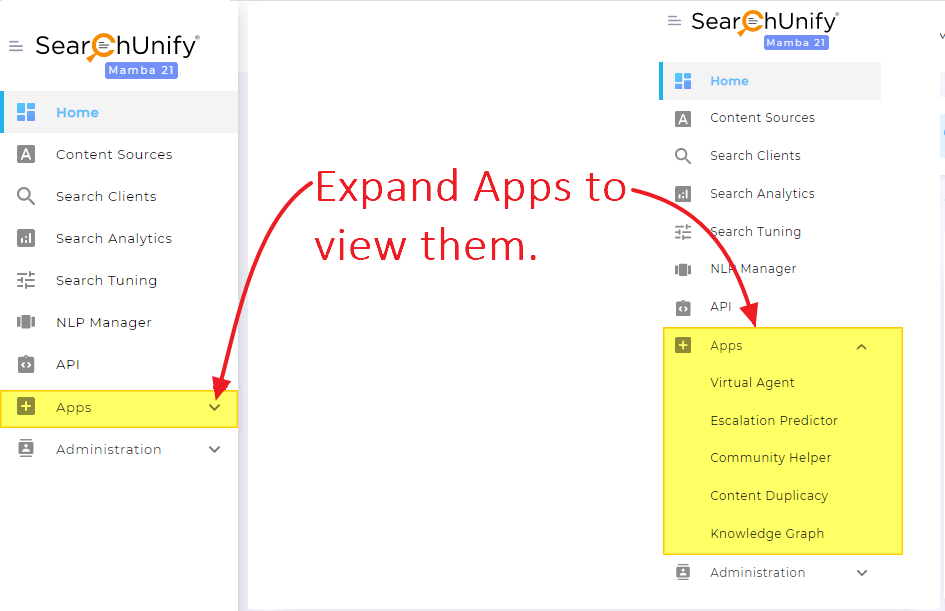 Administration houses three modules used in instance management: Security, Manage Users, and Alerts.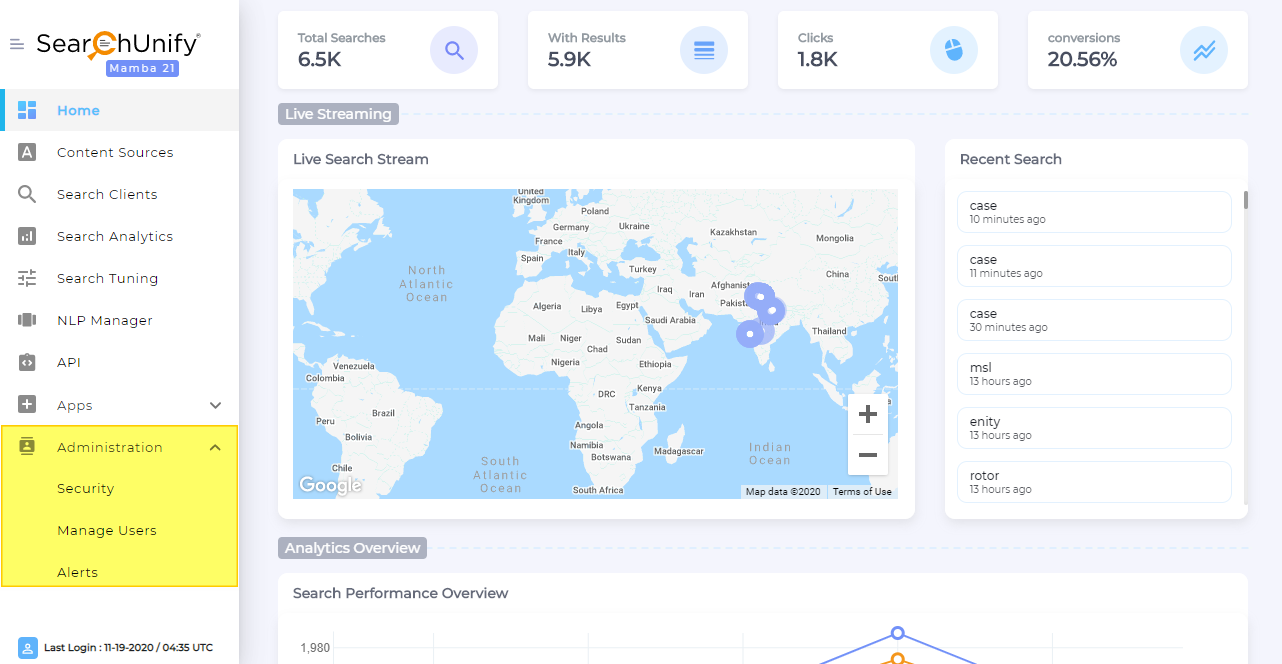 Four-Tiles Ribbon
The Four-Tiles Ribbon displays the cumulative data on four metrics from all your search clients. The metrics are: Total Searches, With Results, Clicks, and Conversions.

Live Streaming
The first section after the tiles. It has two reports.
Live Search Stream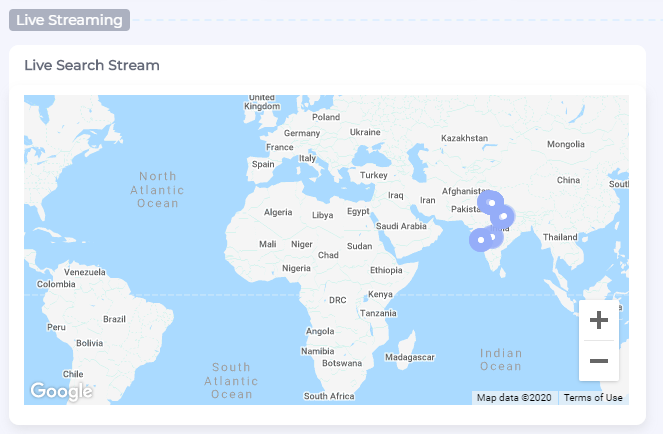 Live Search Stream displays the location your search client users in real time. Like Recent Search (next), Live Search Stream also auto-refreshes itself.
Recent Search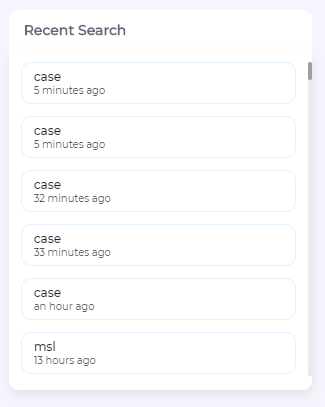 Recent Search displays a list of the latest queries from your users across all your search clients. The data is constantly being pulled because the list auto-refreshes itself.
Analytics Overview
There are three reports in Analytics Overview.
Search Performance Overview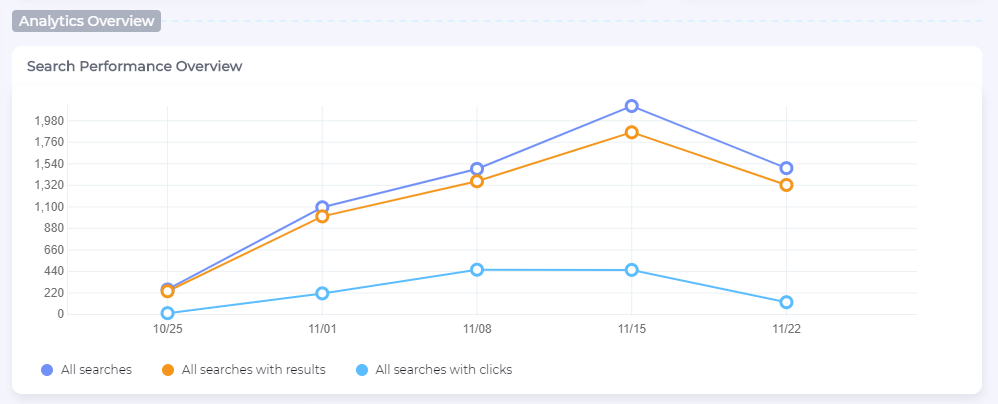 This graph summarizes a month's data of All Searches
Same as Total Searches., All Searches with Results
Same as With Results., and All Searches with Clicks. The last report is the sum of all search sessions in which users clicked at least one result.
Case Deflection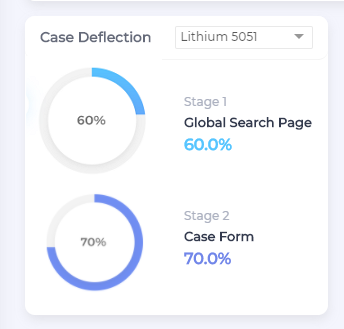 The widget monitors two metrics:
Global Search Page. Case deflection equals Conversions. A conversion occurs when a user searches, find results, and click on at least one result in a session. The metric is available on all search clients.
Case Form. Available only on platforms that support a case creation page. A case creation page is a dedicated web page where users can log tickets. Case Form deflection metric is zero on all platforms where a case creation page is not set up. If a case creation page is set up and Stage 2 Case Deflection is activated, then Case Form shows what percent of users started logging a case and then changed their mind after viewing a help article on the case deflection page.
Most Searched Keywords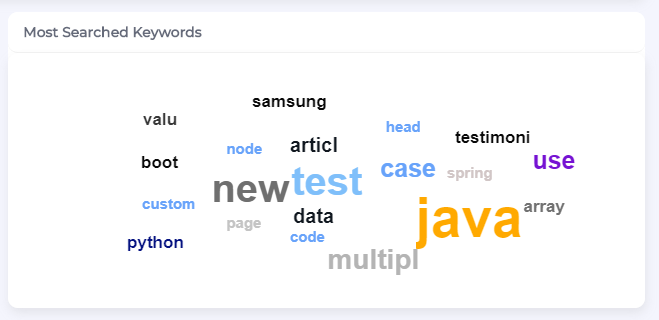 Top Searched Keywords generates a word cloud of the most frequently-searched keywords. The keywords are extracted from search queries and one query might have more than one keyword. For instance, the search query Install SearchUnify in Salesforce has three keywords install, searchunify, and salesforce.
Recommendations
There are two reports in Recommendations.
Actionable Insights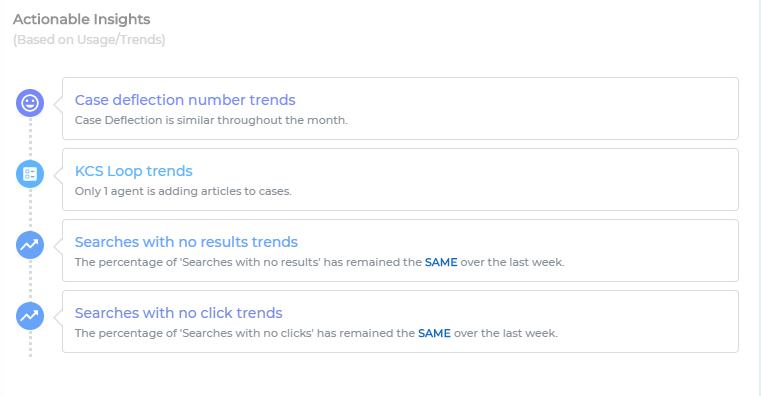 Actionable Insights reads the reports in Home and Search Analytics, identifies information that needs your immediate attention, and translates that information into plain English.
Next Best Action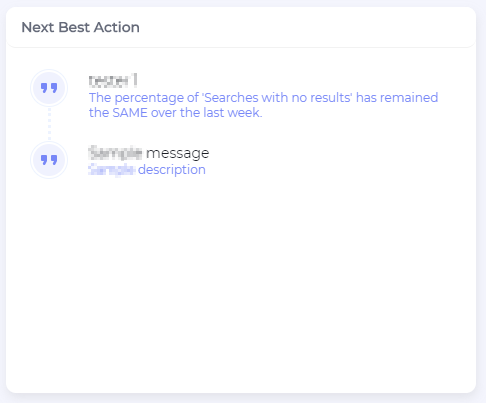 Next Best Action processes the data in Actionable Insights and the reports in Search Analytics to suggest the next course of action. The suggestions are shown next to the Actionable Insights window and generated by a customer success engine.
Last updated: Friday, February 26, 2021
Was this article helpful? Send us your review at help-feedback@searchunify.com