Boost Documents with Intents
Under the Intent tab in NLP Manager, user search queries are analyzed and grouped into Intents and Utterances. By including the results of this analysis into the search algorithm, an admin can configure the results to respond to user intention instead of merely user keywords. The data stored in Intent can then be extended to Intent Tuning.
Add Intent
Add Utterances
NOTE.

When you try to edit an existing intent, NLP Manager can suggest utterances.
Import Intents
An alternative way to add intents is to import them. Click to download a sample file. The file contains the correct intent format.

Create a new file with the intents and upload them using the Upload Intent function.

Expand Utterances with Use Search Synonyms
When activated, this function treats any synonyms of any utterance present in Search Synonyms as another utterance.
For example, if you have an utterance "SU" for the intent "Cognitive Search" in NLP Manager. And if "SU" has a search synonym "SearchUnify". Then, NLP Manager will treat both "SU" and SearchUnify" as utterances of "Cognitive Search."

Delete
You can remove intents and utterances with Delete.
Deleting an Intent
Deleting an Utterance
NOTE.

If all utterances are deleted under an intent, then the intent is also automatically deleted.
Intent Suggestions
Admin can click on Intent Suggestions to get smart suggestions for adding intents and utterances to the existing list or create new ones. NLP Manager can suggest up to 30 utterances for each intent.

Create New Intents from Suggestions
To create a new intent with the utterances, select the intent. Then, from the three dots under the Action column, click on Move Intent. All utterances are selected, when you check an intent. In the image, intent Undefined 3 has been selected.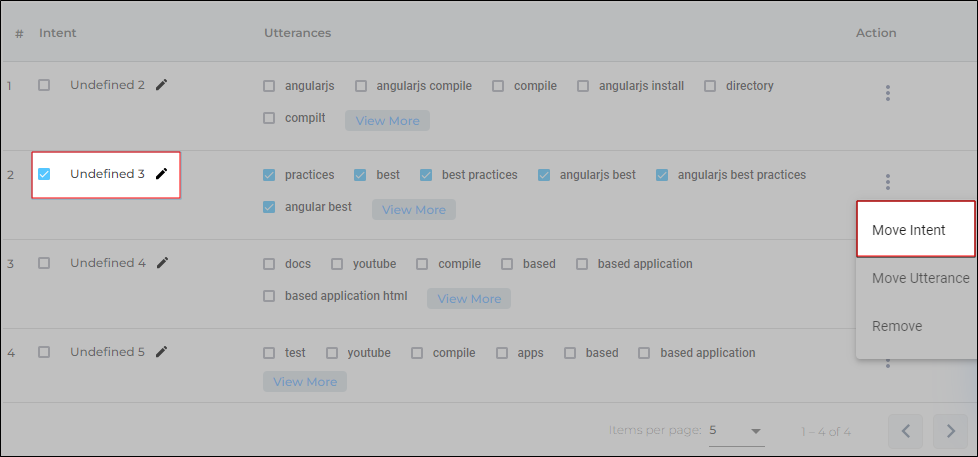 Give the intent a name and click Move.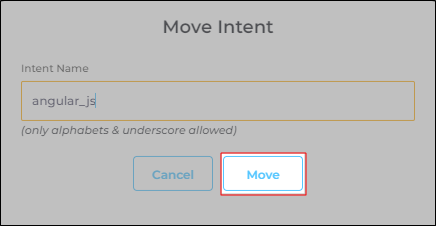 Add Suggested Utterances to an Intent
Select utterances. Then, from the three dots under the Action column, click on Move Utterance. In the image, utterances based and based application have been selected.

Select the intent to which those utterances should be linked and click Move.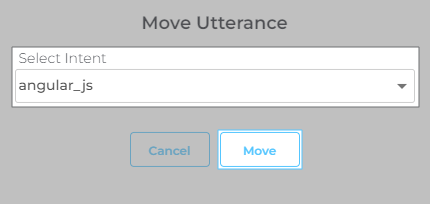 Delete Suggested Intents or Utterances
Select the intent or utterances and from the three dots expand the Action column and click on Remove. In the image, utterance docs has been selected for removal.