Use an Identity Management Software (SSO Sign-In) to Log into SearchUnify
Organizations using identity management software can log into SearchUnify from their platform. This article explains the process for Okta. The process is divided into two parts: 
Create an app in Okta
Enter app details on the SSO Sign-in screen in SearchUnify
PREREQUISITES.

Keep a security certificate, which ends in .pem, handy. Contact SearchUnify to obtain it.
Create an App in Okta
The app creation was successful if you can see a similar screen.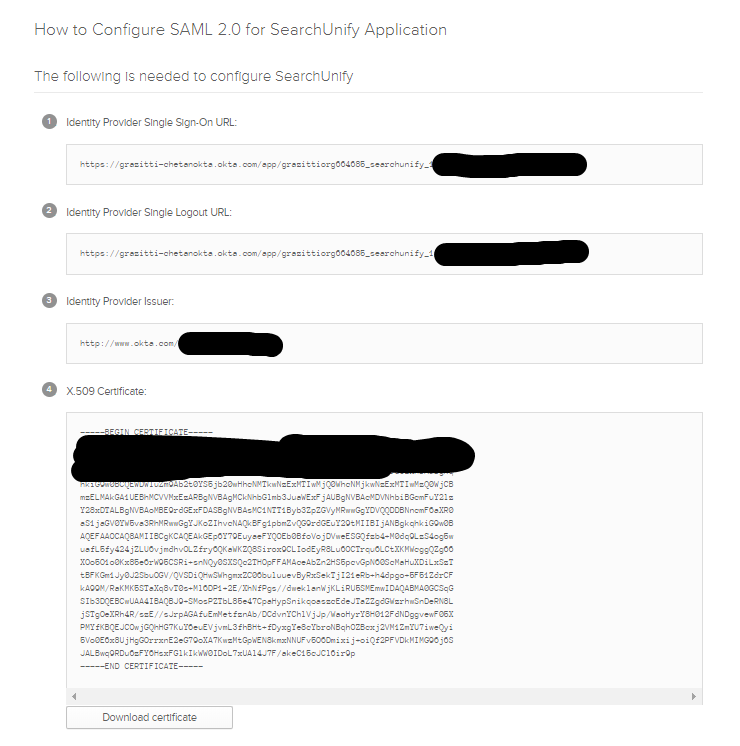 Enter Details on the SSO Sign-in Screen
Enter the details which you found after clicking View Setup Instructions.

Idp Display Name:  Enter any name of your choice.
Idp Identifier: Enter any name of your choice.
Idp Entity Id: Identify Provider Issue
SAML SSO Login URL: Identity Provider Single Sign-On URL
X.509 Certificate: X.509 Certificate
Saml Logout Url: Identity Provider Single Logout URL

Click Save.
Your Okta users can now log into SearchUnify. Each user who logs in with Okta is added to the Hosted Search Users list. For details, go to Hosted Search Users: View Okta Users Logging into SearchUnify
Last updated: Friday, November 27, 2020