Install a Search Client in Salesforce Console
Find information right inside your console. This article takes you through the steps of installing and setting up a SearchUnify client in Salesforce Console. The installation consists of four (Classic) or five (Lightning) steps.
Installation Overview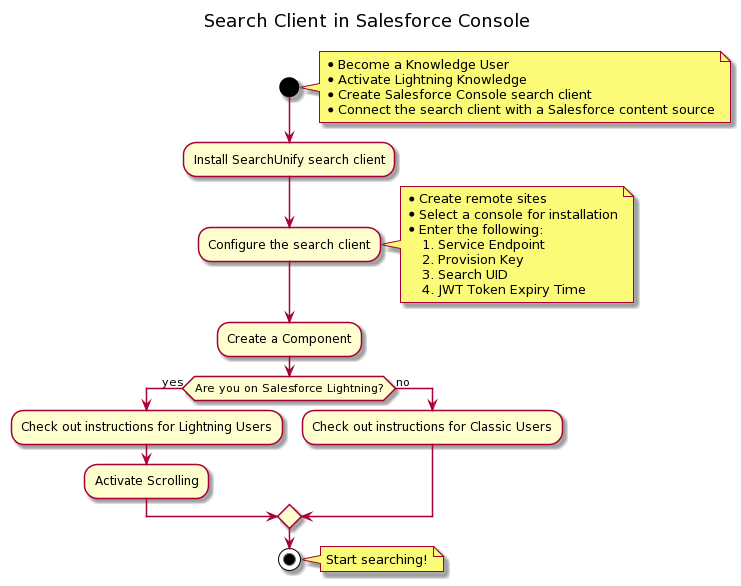 Become a Knowledge User
Enable Lightning Knowledge
NOTE. You can skip this step if you want to continue using Salesforce Classic to create and store articles.
Install a Client
From the package link (highlighted above) in readme, install SUVfConsole for All Users.

Is the App Taking too Long to Install?

You can close the tab. To open the SUVfConsole configure page, use App Launcher.
Configure the Client
Open a new tab and log into Salesforce.
Create a remote site and use the web address highlighted on your Installation Complete screen in the URL field.

Return to the Installation Complete screen (first tab) and scroll down.
Enter configuration details and click Done.

Select your application for Configuration. Choose either Sales Console or Service Console. The search client will be installed in the chosen console.
Enter Service Endpoint. It is your SearchUnify instance URL. Copy it from readme.
Enter Provision Key. You can get it from your SearchUnify representative.
Enter UID. It is your search client ID. Copy it from readme.
Enter jwt token expiration time(time should be in minutes). Enter any integer. The suggested value is 120.
Create a Custom Component
For Salesforce Lightning Users

Select (or create) an app where the search client will be installed.

For Salesforce Classic Users

Switch to Salesforce Classic.
From Setup, go to Quick Find Box, and search for "custom console components."
Add these values to the following fields:

Name: yourCustomComponent
Button Name: YOURBUTTON
Width: 500
Height: 550
Component as VF page: SU_Vf_Console
Check Fixed Height

Click Save.
From Quick Find Box, go to Apps and Edit. (Create a new Console app if you do not already have one.)

Launch yourCustomComponent from the app launch menu.

Click on SearchUnify Knowledge Base to launch the search window.

Start searching.
Activate Results Scrolling
Log into your SearchUnify instance.
Go to Search Clients > Edit > Designer.
Result
Once the entire process is complete, you can open the app from App Launcher and start searching.
Find the App
To use the app, look up your component from App Launcher.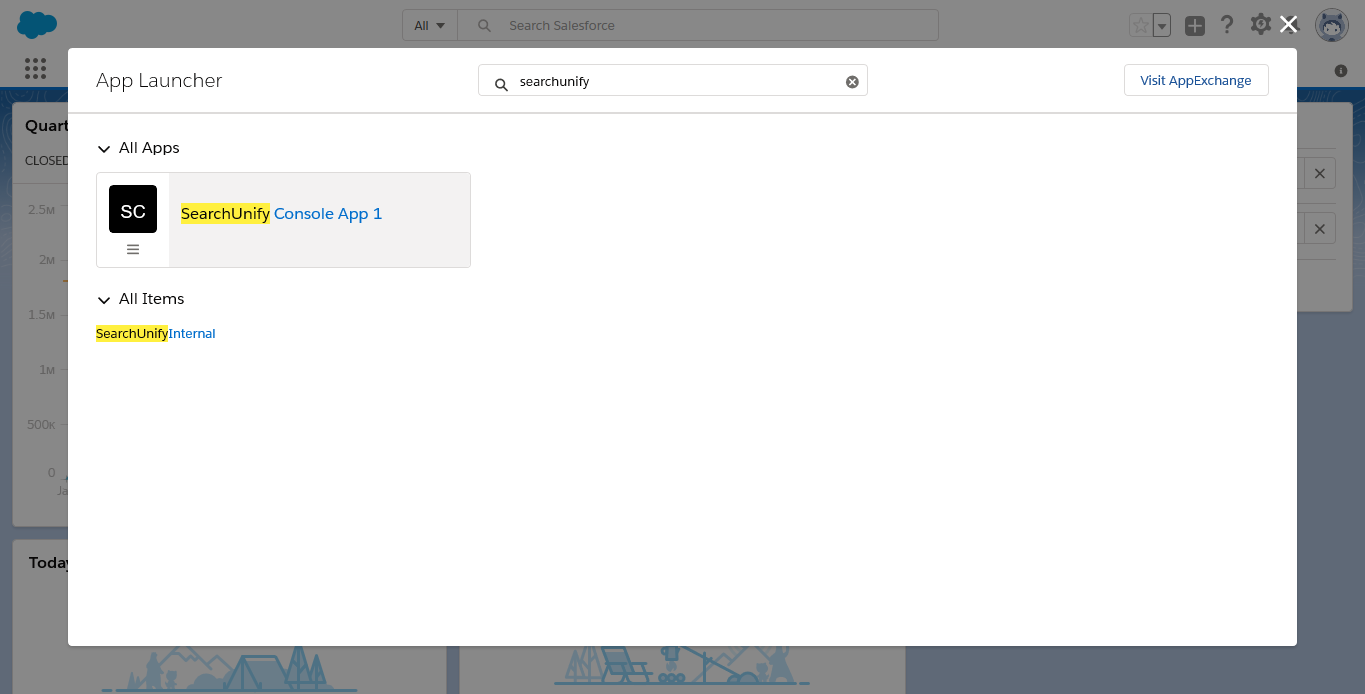 App in Use
Last updated: Friday, September 4, 2020