Manage Users
SearchUnify is often used by various teams within a single operational environment. Apart from other functionalities, Manage Users help to define access permissions for content sources, search clients, tuning, etc. to ensure flawless access hierarchy throughout the instance.
It enables you to add and remove users, change their role and scope, set up a hosted index, and use an identity management software with SearchUnify.
Users roles in SearchUnify
Users roles in SearchUnify are of three kinds:
Super Admin. There can be one, or at most two, Super Admins in an instance. A Super Admin can add or remove any Admin or Moderator, change access control settings for Admins and Moderators, and make calls to any API
Admin. An admin add and delete Moderators, and set Moderator access. For example, the Admin can give a Moderator access to all the tabs (except Manage Users), only one tab, or any combination in-between. Besides, an Admin can add new users as Admins but cannot delete any Admin role.
Moderator. A moderator can never add or remove users. The permissions are limited to what an Admin has assigned.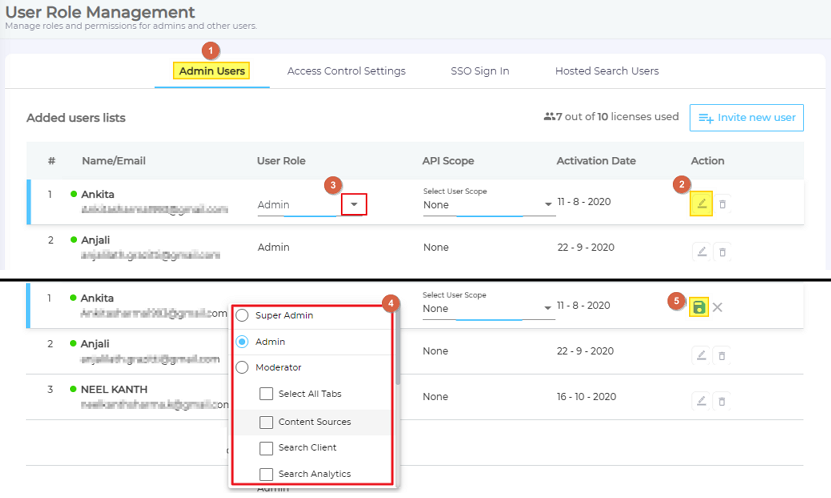 Manage Users Features
Admin Users. User- related administration can be handled through this tab. Super Admin or Admin of the SearchUnify instance can:
Access Control Settings. Super Admin can configure access rights for admins and moderators here. This tab is only accessible to a Super Admin and they can decide if they want to stick with the old settings by setting Content Sources and Search Clients to Public, set privacy to Protected where each admin can see each other admin's content sources and search clients but cannot edit them, or Private where the visibility of each content source and search client is limited to the person who created it or has edit rights.
SSO Sign In. Use an Identity Management Software (SSO Sign-In) to directly log into SearchUnify.
Hosted Search Users. View all the users logging into SearchUnify from an identity management software.