Conversions
Conversion is a vertical specific term. A click on a landing page might be a conversion for a marketer but nothing sort of case deflection will count as conversion for a support rep. But in SearchUnify,
A conversion is the clicking of a search result. An alternative term for "conversion" is "click through rate." 
The report tracking conversions is Search Conversions in Overview.
Case Deflection Trend Chart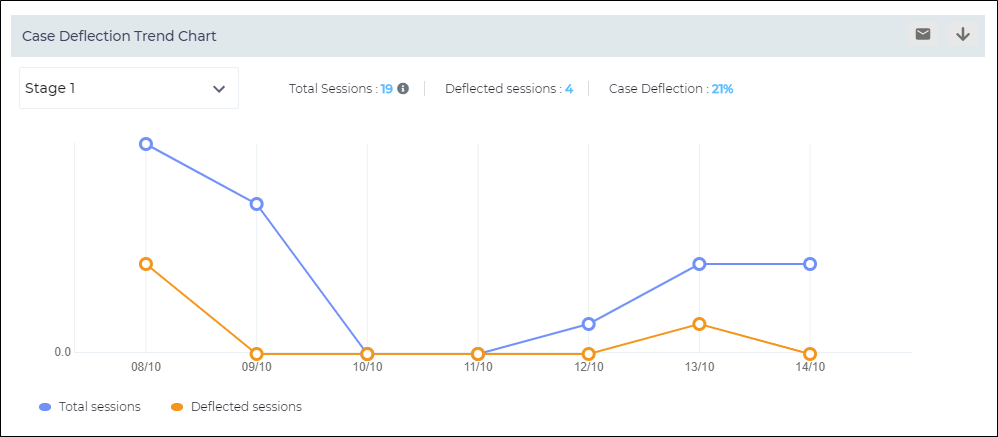 The graph illustrates trends in the case deflection in the last five-week period (default) or the period select in Date Range. It captures three metrics:
Total Sessions. How many sessions took place on a given day, week, or month. The time unit depends on the Date Range.
Deflected Sessions. The number of sessions in which a case deflection took place during a given time which depends on the selected Date Range. In the default view, only Stage 1 case deflections are counted but users can use the dropdown in top left to view the graph for Stage 2 case deflections or Cumulative (Stage 1 + Stage 2) case deflections.

Case Deflection Rate. In Stage 1, case deflection rate is ; in Stage 2 it isand in Cumulative it becomes. Where = total cases deflected in Stage One through search, = total cases deflected in Stage One through Direct View articles,  = total sessions, = total cases deflected on the support page, = total search sessions on support page.
Other Reports in Conversions