Mamba '20 Release Notes
With Mamba '20, SearchUnify's cognitive platform gets a host of new features along with functional and cosmetic enhancements that aim to build on the solution's capabilities for an improved end-user and admin experience. Incorporating feedback from our customers and changing trends, we have packaged key upgrades in our latest release.
This release has something for everyone: Admins, business owners, and end-users. In it, you will find three new content sources, support for a new search client, an on-premise version for security-conscious organizations, an overhauled dashboard, powerful Salesforce synchronization capabilities, cleaner logs, intelligent chatbots, and powerful analytics.
A summary of all the new features and improvements follows.
Release Schedule
---
Mamba '20 will start rolling out to SearchUnify customers in November.
All updates-related queries can be directed to support@searchunify.com.
Home
---
For a better and more immersive experience, the dashboard now displays the most popular and relevant reports. The solution now leverages NLP to convert comprehensive reports into precise, everyday English for quicker processing.
What's New?
Dashboard Renamed
Dashboard has been renamed to Home and the most visible change on Home is the appearance of Actionable Insights.
Actionable Insights
Actionable Insights reads the reports in Home and Search Analytics, identifies information that needs your immediate attention, and translates that information into plain English.
Actionable Insights is powered by a natural language generation (NLG) unit which converts statistical data into everyday English. For example: "Case deflection has increased consecutively for the 3rd month." or "A downward trend is been monitored in searches with no results. The proportion of no-result searches in total searches dropped from 45% last week to 30% this week."
Reports
In the default set-up, the reports on Home provide usage analytics for 5 weeks, including the new reports on case deflection and search summary.
Next Best Action
If Actionable Insights presents data, Next Best Action processes it and suggests what could be done with it. The suggestions are provided by a customer success engine.
Notifications and Announcements
Stay up-to-date on the changes in your instance in particular and SearchUnify in general with Notifications and Announcements. SearchUnify will use the feature, on top of email, to broadcast information.
Content Sources
---
The last release of 2019 extends support for three new content sources, accelerates loading, adds an indexing updation icon, and improves indexing for Salesforce.
What's New?
Docebo
For someone who has gotten used to searching their way to answers, navigation can seem like a chore. Take Docebo. For an organization that uses Docebo to onboard interns and upskill employees, logging into the platform multiple times a day to monitor student progress isn't easy. We came up with a solution.
Docebo is now supported out-of-the-box. So the next time you want to see Jane's enrolled courses, you can use your search client.
Learn more: How to Use Docebo As a Content Source?
Slack
Wouldn't it be great if you could search company chats, channels, and new groups? Your wish has come true.
Now you can crawl Slack with a few clicks. It has become an official SearchUnify content source. As for retrieval, the data can be viewed from a search client installed in Slack or any of the 10-plus platforms—including Salesforce, Lithium, Zendesk, and Microsoft Dynamics—we support.
Learn more: How to Use Slack As a Content Source?
Vimeo
For business owners obsessed with video quality, Vimeo is often the platform of choice. Now, the same owners have a new reason to continue using Vimeo: SearchUnify support.
You can now connect your Vimeo channel to SearchUnify. It takes a few clicks and your Vimeo videos become searchable.
Learn more: How to Use Vimeo As a Content Source?
Enhancements
Crawl Status Alerts from Icon and Email
The progress icon changes color when the indexing of a content source is complete. In case you have subscribed to crawl alerts, you will receive an email notification as well.
Learn more: Turn on Content Source Indexing Notifications
Faster Loading
Despite three new content sources, loading the content source screen has gotten quicker. It is not just our perception. We measured it. Loading is 40% faster now.
A new modular structure is responsible for the increase in speed. Instead of downloading and keeping each content source in your browser's memory, the new structure requests only the content sources and data you need.
À la Carte Salesforce Object Crawls
The data stored in a Salesforce org can be enormous. Crawling the entire org for an update in one object is not always an efficient use of computing resources. Not to mention that it's time-consuming. We solved both challenges with our new single object crawling feature.
The next time you have to synchronize just one or two Salesforce objects across your search clients, open Salesforce edit settings in Manage Content Sources, navigate to the Rules tab and click

against the object to index new data.

Learn more: How to Crawl Just One Object in Salesforce?
Salesforce Feed Comment Search
SearchUnify now supports the feed comment object. It means that any Salesforce data stored in feed comment can be searched. Enter a keyword to fetch the message, update, case, or image you are looking for.
Search Clients
---
Eye candy templates, a Slack search client, and new search results management features make this release special.
What's New?
Search Client in Slack Bot
Find more than just files, channels, and messages on Slack. A new bot for Slack allows you to search across your data repositories from inside Slack is part of Mamba '20.
Learn more: Install a Search Client in Slack
Support for Multiple Service Console Search Clients per Salesforce Org
This is a feature for large enterprises using multiple Salesforce Consoles. They can now set up a unique search client in each console. It personalizes user experience while improving access control.
Access Control for Salesforce and Docebo
Talking of access control brings us to this exciting new feature: Permission overriding.
SearchUnify respects the access control settings defined in your Salesforce org or Docebo instance. A user who cannot access a Salesforce report in your org, then he or she will not be able to find it through search. This is the default setting. But now you can override that.
In the Content Sources tab in Search Client are new toggle buttons. Toggling any one to the right overrides default access control settings for a content source; making your data accessible to all users.
At the time of Mamba '20's release, the feature works only on Salesforce and Docebo.

Learn more: Permissions Override
More Templates and a New UI
Efficiency goes hand-in-hand with aesthetics in SearchUnify. A bunch of new templates offers admins more choice, especially those who are reluctant to edit HTML, CSS, and JavaScript. You can now move facets to the right of search results, to the left, or above them with the click of a button. To make a selection, navigate to Search Clients and open the Templates tab.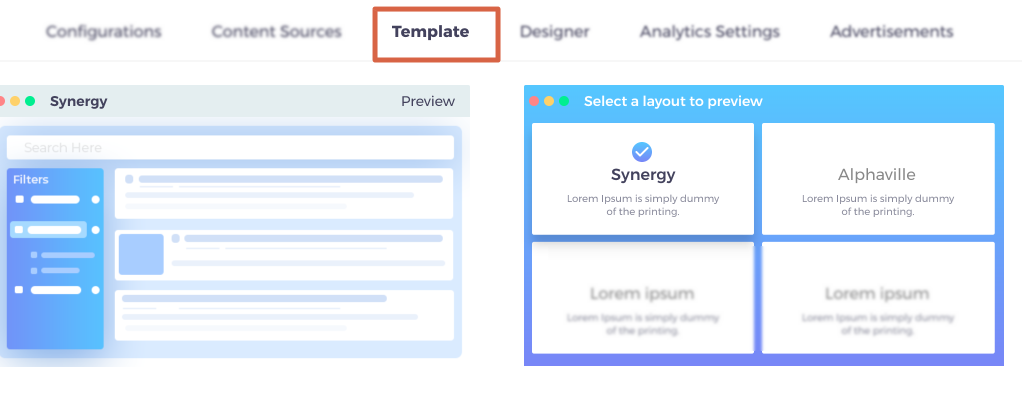 The UI of the Salesforce Console search client has also underwent an update.
Learn more: Change Template
Enhancements
Facet Management
Facets help users narrow down search results and they are more useful when similar facets are placed together.
Right next to Change Filter Preferences is a new icon. Click it to view all the facets detected by SearchUnify and then use the drag-and-drop functions to thematically group them. You can select the theme that most suits your business requirements.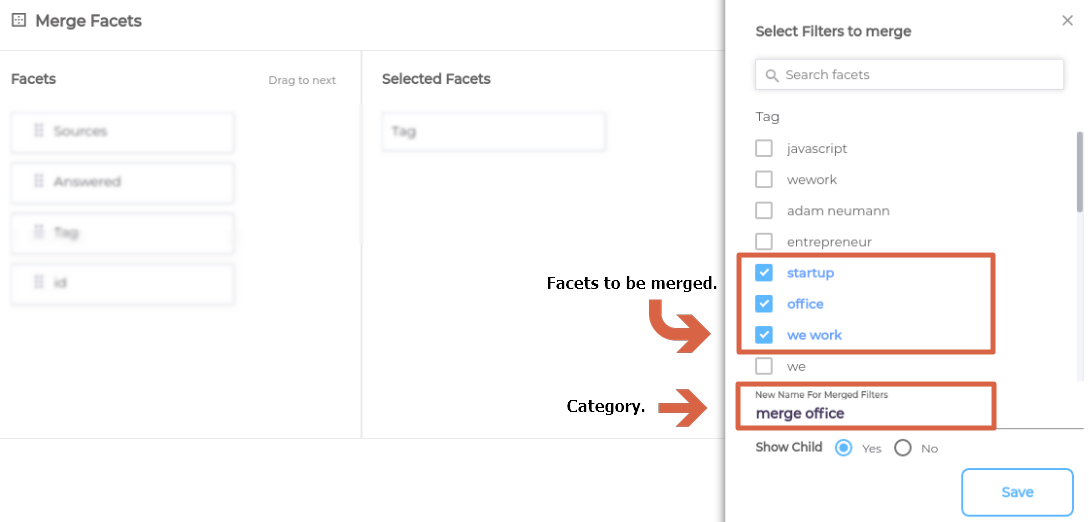 Learn more: Merge Facets
Filterable and Searchable Fields (Salesforce)
Users are more likely to use date as a filter than search something like "salesforce cases on 2019-09-18." Date is clearly an object (content field) that is filterable. But not all content fields are like date. Consider the name of an author. It can be a filter (find me all the article written by "Ray Bradbury") or a search term (Ray Bradbury's author bio page). It is for these category-defying fields that the notion of filterable and searchable fields has been created for search clients on the Salesforce platform.

Learn more: Configure Content Sources
Page Rating (Salesforce Lightning)
Support for Page Rating has now been extended to Salesforce Communities. It was originally conceived as a user feedback mechanism for websites. But after Mamba '20 , admins will have an option to set it up on Salesforce and discover the most helpful discussions and posts on their brand community.
Learn more: Gathering User Feedback with Page Rating
Chatbots
---
The chatbots module has been completely revamped. With a new user interface, three new adapters, and powerful analytics, it has become easier to use and a more powerful instrument in your customer service toolkit.
What's New?
Conversations
Empowers chatbot admins to create dialogues in the form of a story. The stories lay down the basis of coupling intents with a response under one roof.
Learn more: Design a Conversation
Live Agent Connector for Salesforce
A new connector makes it quick for users to talk with your agents on Salesforce. The connector is for users who need more information than a bot can provide.
Lithium Adapter for Starting Community Discussions
What happens when a user wants more than what a chatbot conversation can provide? They log into your Lithium community and start a discussion. In Mamba '20, community participation has been made easier.
Users can now post questions to your Lithium community right from the chat window. It is quick and convenient.
SearchUnify Adapter
Replace those "Sorry, I don't understand you!" type messages with a feature that truly helps customers. Each time an utterance falls out of scope, a new fallback option fetches results from your content sources and presents them to users.
Admins can also configure the adapter so it doubles as a search client; allowing users to search from the chatbox.
Analytics
Admins can view chatbot analytics data in real time. The data is divided into four tabs: 
User Interaction: Find the number of total users who interacted with the chatbot, as well as the users who are currently online.
Intent: View the most frequently triggered intents on search clients.
All Reports: Discover utterance hits for intents and the responses presented.
Chat Transcript. Email chat transcripts for any session to support agents.
Learn more: View Chatbot Analytics
Theme Editor
Six settings in the powerful new Theme Editor allow you to highly customize your chatbox.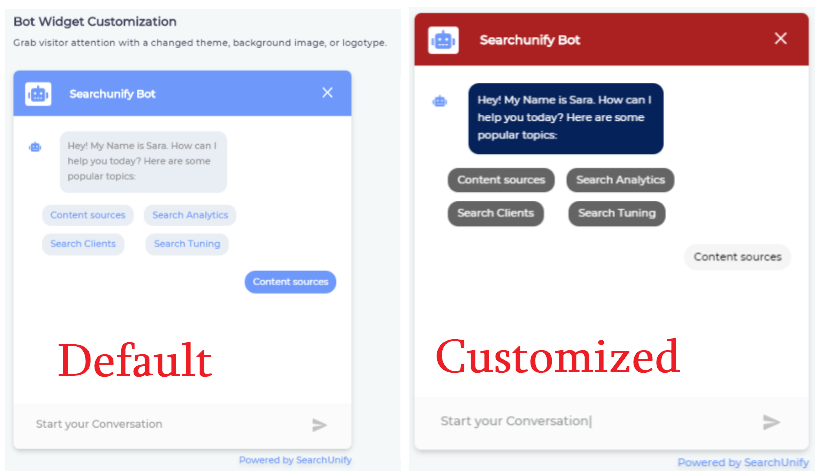 Learn more: Customize Your Bot with Theme Editor
Search Analytics
---
Uncover hidden user search patterns, discover gaps in your content strategy, and receive more accurate reports with new Search Analytics.
What's New?
Case Form Page Reporting
Pareto's principle applies to your knowledge base as well. In most organizations it is a small number of articles that are responsible for deflecting the most cases. The challenge is to identify them.
A new report gives admins an insight into the articles that successfully deflected cases, along with the keywords that were used to find them.
Learn more: Conversions
Enhancements
Advanced Filters in Session Tracking Details
A new filter, With Searches, allows admins to view only those sessions in which a search was conducted. Toggle it right to activate.

All Sessions is a filter, which can be used to view sessions in which a user visited support and (1) created a case or (2) did not create a case.

Details in a session tracking report can be overwhelming, but they do not have to be. All Activities lets you customize reports. You can choose to limit a report to only the data that you need.

Learn more: Conversions
Content Gap Analysis
The Searches With No Result report carries context now. Instead of simply listing the keywords for which no documents were found, the report will provide details, such as whether any filters were in use and what search operators were employed. Based on this information, admins can select the best course of action to plug content gaps: Create new article or educate users about advanced search.
Admins can view context by clicking the session count of a keyword.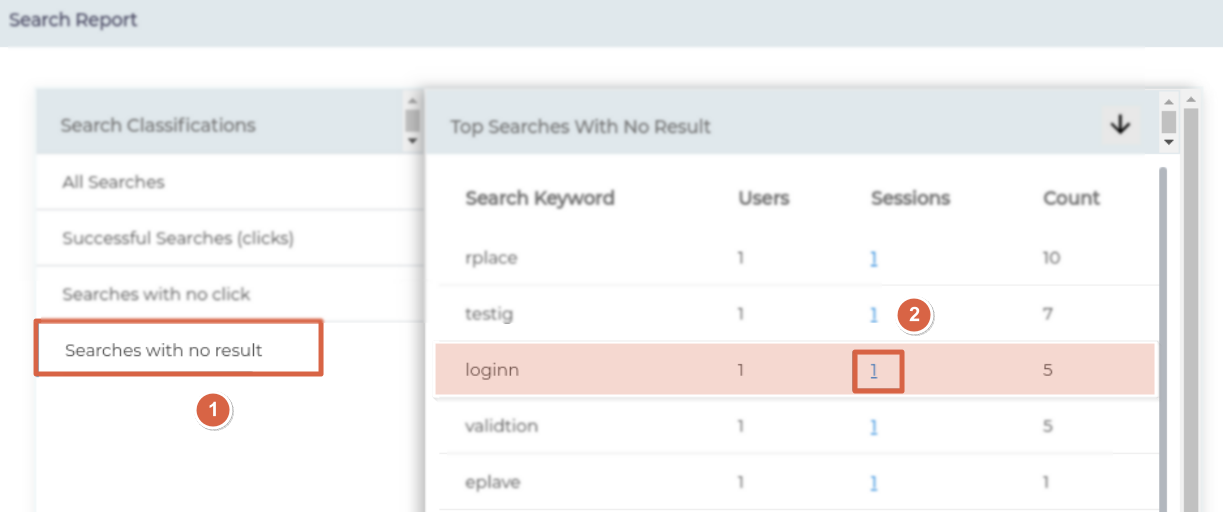 Learn more: Content Gap Analysis
Export SearchUnify Data in Your Tableau
This update is for people who love data crunching.
SearchUnify now connects with Tableau through its Web Data Connector. It means that you can import your entire analytics data into Tableau for more refined analyses.
Two-Stage Case Deflection
Added new stage to make case deflection more understandable. Two-Stage Deflection: Mamba '20 introduces a new, comprehensive formula that leverages a two-stage deflection model to provide a more accurate picture of search effectiveness.
Add Search Filter-Based Clicks
Add Revamp Overview Screen (Tiles renamed)
New Email Design Templates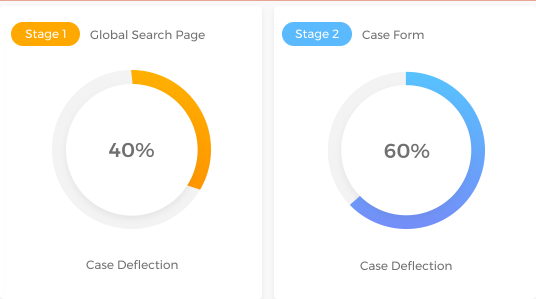 More Comprehensive Reports in Conversions
Search click-through reports have become more comprehensive and convenient to use.
SearchUnify on communities reports the number of cases logged during a session.
A new formula has been devised for measuring case deflections.
Clicks on search suggestions now count towards conversions.
Users can go to the second, third, fourth, and other search results pages without affecting the keyword search count.
Search data from console search clients Salesforce, Zendesk, and other platforms is excluded because these clients are primarily used by agents.
SearchUnify on communities reports the number of cases logged during a session.
Search click data from merged facets is more accurate.
Search Tuning
---
Setting up SearchUnify is a one-time affair, but search optimization requires regular tweaking. The new updates make the tweaking job easier.
What's New?
Custom Boosting per Search Client
Don't paint with a broad brush when you can be more nuanced.
Admins managing more than one search client can now set different boosting scores for each search client. It frees them from the tyranny of uniformity, makes A/B testing easier, and allows for more freedom in how users are served.
Learn more: Auto
Enhancements
Scoring Explanations in Test Your Tuning
The Test Your Tuning screen is more than just a way to view the impact of your search tweaks. Each result on the screen features information about the old rank (without any tweaks) and the new rank (after your tuning), so you can quantify the impact of your changes.
Learn more: Test Your Tuning
Boosting Options
Turn On/Off. Search boost is no longer a one-way street. You can turn on and turn off boosting with one click. The effects are visible in real time.
Clicked Boosting Base. Most consulted articles tend to rank above articles that aren't read that much. You can quantify the probability.
Recency. Other factors constant, the recent documents in your content sources will be ranked higher than an old document. As an admin you can control the potency of the "recency factor."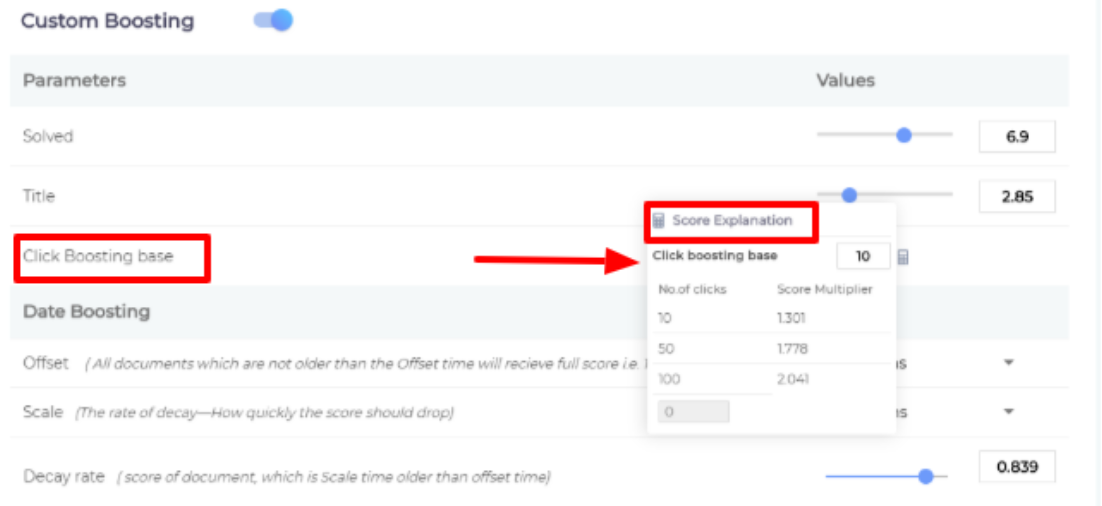 Learn more: Custom
NLP Manager
---
If Manage Synonyms and Manage Stopwords had a kid, what would be its name? NLP Manager!
NLP Manager is more than the sum of Manage Synonyms and Manage Stopwords. It is more powerful and has four features now: Add Synonyms, Suggestion Removal, Did You Mean, and Manage Stopwords.
What's New?
Did You Mean?
A new tab has been added next to Suggestion Removal. It is called "Did You Mean?" and it allows admins to configure how meaningful suggestions are displayed. The data comes from your content sources, a custom dictionary, and an analysis of user search behavior.

Learn more: Providing Useful Suggestions through Did You Mean
Enhancements
Synonym and Abbreviation Clusters
In old times, the potential synonyms or abbreviations suggested by SearchUnify were based on user search patterns. The process was slow, taking as long as three to four months. Well, that was past.
A new WordNet database has been included to suggest synonyms and abbreviations from day one. The database compliments the analysis of historical user search patterns.
From now on, SearchUnify will analyze user search patterns and draw on its database to recommend potential synonyms and abbreviations to admins who can make selections and feed those selections to the search engine.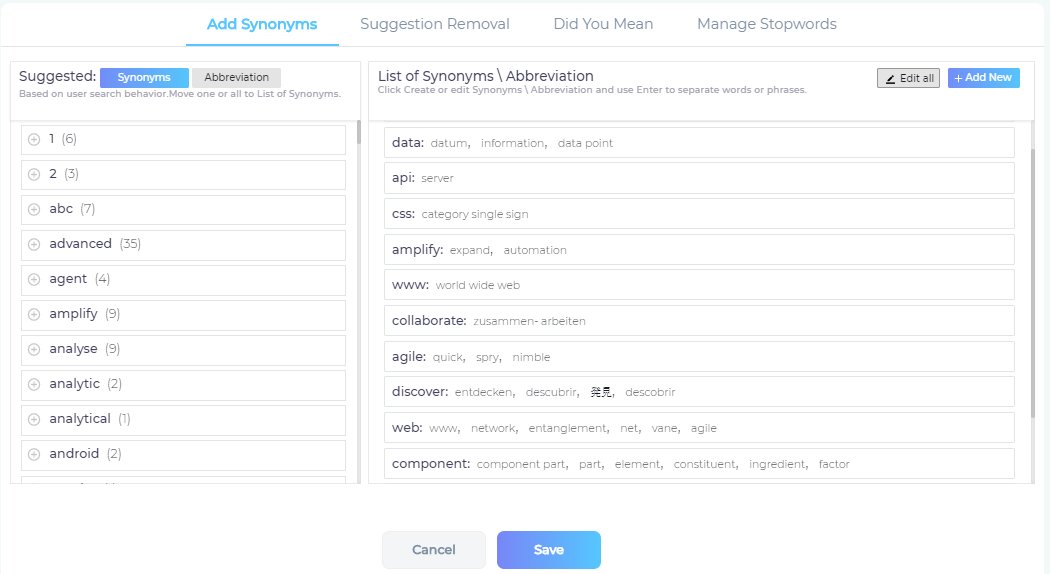 Learn more: Add Synonyms
Security
---
SearchUnify continues to work on making search secure. This season's update includes out-of-the-box support for access control permissions, and a two-factor authentication for admins.
What's New?
On-Premise SearchUnify
Enterprises now have a choice between SearchUnify on Cloud and On-Premise SearchUnify. The latter has been developed for organizations who are obliged to or prefer to store their data on in-house servers instead of a cloud.
Two-Factor Authentication
Two-factor authentication is now turned on for admins. To log in, an admin has to provide an OTP. The OTP is shared over email.
Manage Users
---
The process of adding users has been standardized and a new scope has been introduced for admins who wear several hats.
What's New?
New API Scope Added
Power users rejoice! A new scope, All, will help you make calls to any API. Scope-hopping is now a thing of the past.
For admins concerned about access control, the specialized scopes (Search, Analytics, and Content) have been kept in place. You can still assign a user any of the old scopes if you goal is to restrict calls from that user to only one API.
Learn more: Change User Scope
Admin User Licenses
Each SearchUnify instance comes with a fixed number of user licenses. You can stay on top of how many licenses are in use with the Admin User Licenses. It is found on the Admin Users screen in Manage Users.

Enhancements
Invite Users
The old-school method of adding users through a registration page has been put to rest. It has been replaced with an Invite New User function, which you can access in Manage Users. The new method is easier on admins and more intuitive for users. They receive a welcome email and follow through a few verification steps.
Click Invite New User and enter the new user's email to share with them a registration link. The link is secure and remains active for only 24 hours.

Learn more: Add a User
Recover Lost Password
If you cannot sign into your instance with your SearchUnify password, you can reset your password and regain access to your instance.
Prerequisites. All you need is your User ID (an email account you use to log into SearchUnify) and the Answer to the security question you set up at the time of registration.
Learn more: Recover Lost Password

Addons
---
The updates in Addons are primarily targeted towards supports teams.
Enhancements
Agent Helper
The next time you open a case page on Salesforce Console and expand the Agent Helper window, you will see—on top of a list of related cases—the agents who worked on those cases, the help articles the agents shared with the customers, and a tab mapping user journey.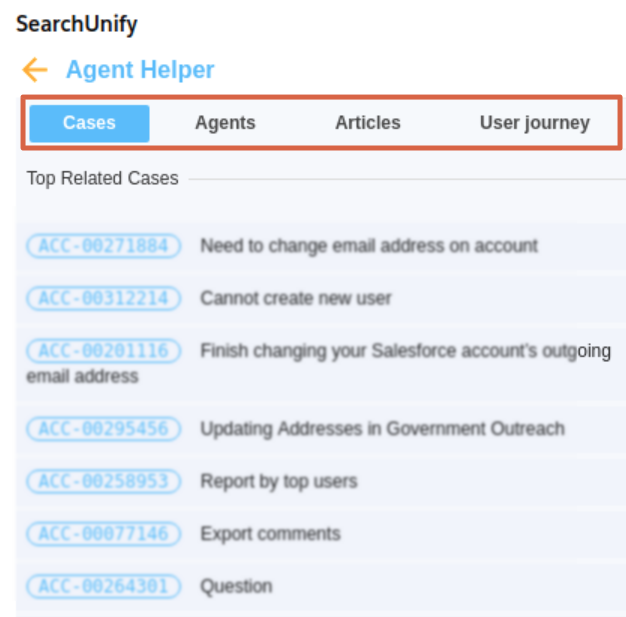 Learn more: Install Agent Helper in Salesforce Console
KCS Helper
A new UI is the most conspicuous part of KCS V2, but not the only one. Other features include:
Out-of-the-box support for the article type Salesforce Knowledge
Support for mapping multiple article types
A button to attach an article to a case and copy its URL to the clipboard with a single click
Data categories for articles
Learn more: Install KCS Support Console in Salesforce Console
Email and Attach to Case
Your support reps save time when they can find a piece of information right inside Salesforce Console. So from day one, the SearchUnify search client has been designed to work in Salesforce Console. A new update makes the search client even more useful.
Admins can now configure the search client so each right click attaches articles to case comments and emails articles to customers as well as. The feature is fast and once you are used to it, impossible to imagine the world without it.

Learn more: Share Results on Salesforce Console
User Experience
---
The entire raison d'être of SearchUnify is to serve end users. This section covers the updates for them.
What's New?
Collapsing Descriptions
Nah. It is not as bad as it sounds. In fact, it is not bad at all.
The underlying idea is simple: The easier it is for your employees or customers to search, the more frequently they are going to use it. SearchUnify's new collapsible summaries make it easier to compare search results, especially if you are on a small screen.
Clicking Show Less hides meta data and description so more results can fit on a mobile phone, tab, or notebook screen. That allows you to review results with minimal scrolling.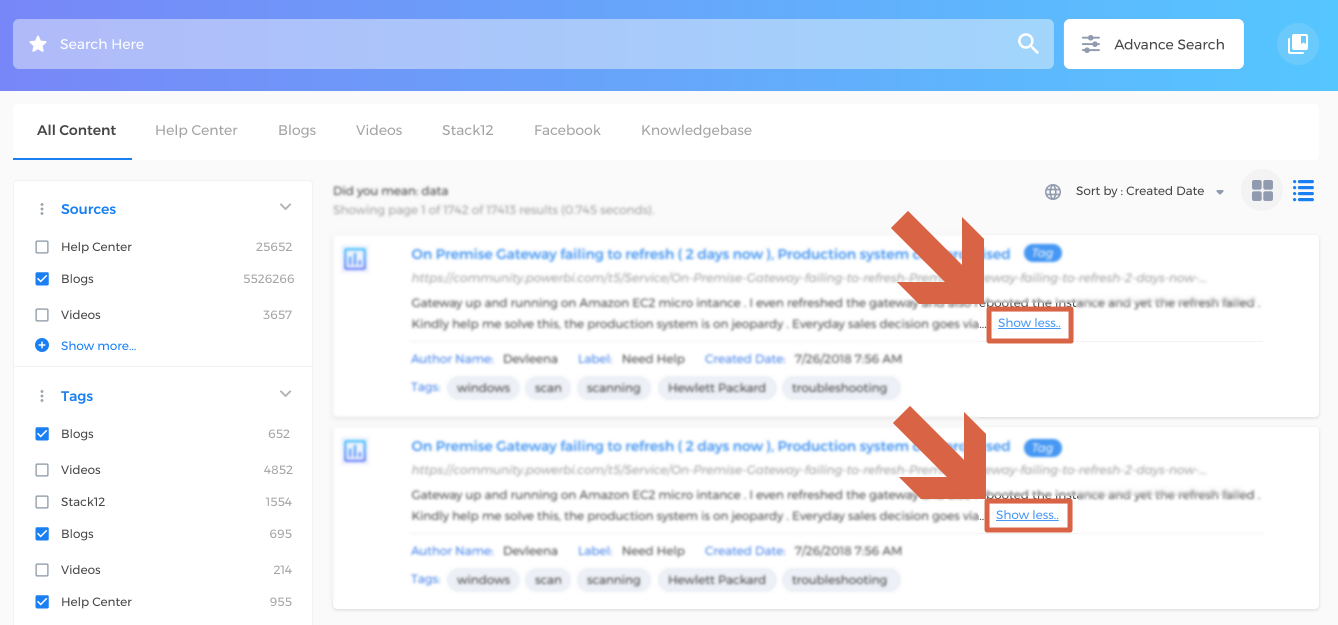 SearchUnify for Chrome
A great news for heavy search users. Instead of firing up a new tab each time you need a search client, you can rummage through your content sources right from your Chrome address bar. Prefix the search term with "su" and "space" and press Enter after your keyword(s). The extension does not become your default search engine, so you have the best of both worlds. The installation instructions are on the Chrome store.
Learn more: Search with Chrome Extension
Hide Facet Categories
SearchUnify admins decide what content types (object properties) will be used as facets. However, as an end user you can hide the facets you do not frequently use.
Personalize How Results Are Displayed
A document on a results page has five elements: 1. Title, 2. Summary, 3. URL, 4. Metadata, and 5. Icon.
Each of these elements can be hidden for more personalized search experience. This article walks you through the process.
Learn more: Personalize How Results Are Displayed
Rearrange Facet Categories
Facets are an advanced search feature. Because they act as filters, users can check one or more of them to confine the scope of their search and find more relevant documents. Among other properties, a facet can be a tag, created date, content source, or even case status.
The default order of facets is decided by SearchUnify admins, but as an end user you have an option to change that.
Learn more: Rearrange Facet Categories
Set a Favorite Content Source
It is possible to configure your search client so it fetches documents from just one content source. In the SearchUnify lingo, it is called favoriting a content source.
Learn more: Set Favorite Content Source
Support for 日本語, Español, and All Languages Between
Polyglots rejoice! You now have an option to change interface language and define content source languages. You can upload a file of translated labels to localize your instance in a language of your choice. The next image showcases a search client in Mandarin Chinese.

Enhancements
Similar Searches
Similar Searches suggests potentially useful search terms on the first page of search results. The suggestions are formed after analyzing search data, which SearchUnify handles itself. All what the users see is a list of "Similar Keywords" or "Others Also Searched For".
Recent Searches
The search suggestions menu also contains a list of recent searches now. Users are offered search suggestions as well as a list of the keywords that they have searched.
Last updated: Friday, November 1, 2019